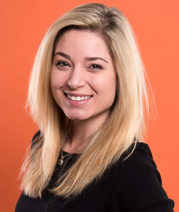 Since 1984, Stoner Bunting has been developing mutually beneficial relationships in the home and building products industry. Fast forward to 2013, as Stoner Bunting continues to grow its offerings, expanding its media department to provide comprehensive, integrated media strategy. As part of its continued expansion, Stoner Bunting is excited to announce the promotion of Chyna Finefrock as Media Coordinator.
"Her promotion is a direct result of our commitment to our clients and dedication to evolving to meet the needs of the home and building products industry," said Dan Nguyen, president of Stoner Bunting. "Chyna's organizational skills, hard work and knack for media made her the perfect candidate for this position. Keep your eye on her – Chyna's tenacity will see her continue to rise through our ranks."
Finefrock graduated from West Chester University in 2014 with a Bachelor of Arts in sociology. In 2015, Finefrock's marketing experience along with her drive and willingness to learn provided her the opportunity to begin her career at Stoner Bunting as an account services assistant before accepting a full-time position as assistant account executive.