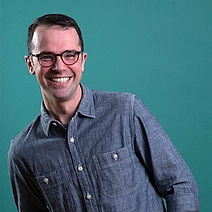 Stoner Bunting Advertising has expanded its content and design department as part of a continued endeavor to provide well rounded media support and marketing strategy to its clients. In support of these efforts, Stoner Bunting Advertising recently welcomed Patrick Kirchner to the team as associate content director.
For the past four years, Kirchner refined his design skills as an art director and brand designer in the world of higher education magazines and as partner and design director for Dog Ear Consultants. His earlier career experience entailed editor positions with Fly Magazine and The Penn Stater, followed by work as a content and production manager for specialty publications, visual editor for LNP Media Group, and freelance writing. He is a graduate of Millersville University, earning a Bachelor of Arts degree in english and creative writing in 2000, and is a member of the American Institute of Graphic Arts (AIGA).
To support the agency's content-centric strategy, he is actively developing content that is tailored to its clients' target audiences and optimized for relevancy to those audiences' needs. Kirchner's vast background in journalism and his more than ten years of content management experience allow him to bring a host of assets to Stoner Bunting Advertising's collective of well-seasoned strategic professionals.
As associate content director, Kirchner spearheads the execution of creative work and content to fulfill strategic plan requirements. He also manages content development resources to bring campaigns to life, while working hands-on with the creative team to meet client expectations.
"Patrick has already impacted Stoner Bunting and the work we do. His collaborative approach, his innate curiosity and the overall energy he brings to the agency – those are the kind of things you can't see in a resume or a portfolio, but they have an immeasurable effect on the day-to-day," says Dan Nguyen, President and Owner of Stoner Bunting. "Patrick is always focused on how we can make the work even better, and that inspires the whole team."