They're up. They're down. They're in. They're out.
In the world of marketing tactics and trends, trade shows are unique in their cyclical nature. For a while, they're hot: no one who is anyone in the business would think of skipping KBIS, the AIA Expo, Neocon or Greenbuild. Within a few short years, they begin to cool down. The ROI is questioned, and all at once the biggest brands in an industry will start scaling back or backing out entirely. But it never takes long for the pendulum to swing back in the other direction, and trade shows come roaring back to life.
The future of trade shows is more uncertain than ever, after a season of mass cancellations due to COVID-19. Will marketers decide to come back with a bang after a silent year, or will they determine that they didn't miss much when they missed the show season?
One thing is certain. When SBA clients participate in trade shows armed with our strategic guidance, onsite support, media assistance and client network, they come back armed with leads and opportunities that make the show worthwhile.
Are trade shows still worth the investment?
Only if you do them right. That means focusing on the right goals and using all the tools at your disposal – before, during and after the show – to achieve them.
Maximize Your ROI: How to Justify Your Trade Show Spend is our e-book guide to everything home and building products manufacturers need to know to make the most of the show, from the big events like AIA and IBS to regional and vertical market shows.
Download it now for:
Keys to successful booth design
The top 5 trade show mistakes
Taking your booth staff from zeros to heroes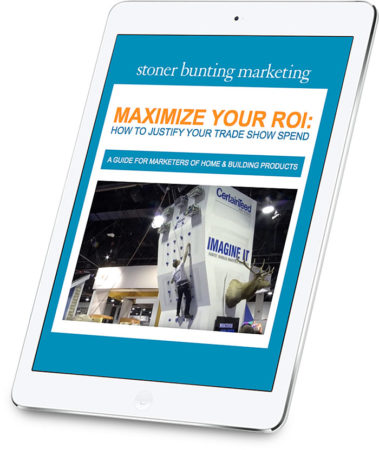 Strategic insight. Creative thinking. Real results.
Proud members of the NMSDC and EMSDC
NAICS codes 541810 and 238210