Annual Campaign Planning & Execution
Invite Stoner Bunting to your annual planning sessions and engage us in marketing plan writing around estimated budgets, initiatives, product launches and goals. We will support those efforts throughout the year.
Planned Initiatives & Projects
Have a bunch of projects in the pipeline? Hire us on a project basis – one or multiple – to concept and execute at the level you need.
Ad Hoc Projects
Did an unexpected project pop up and you're in a pinch? We can handle quick-turn projects that are high priority, but unplanned. Since we're up to speed on your industry and your business, we work fast and get it right. SBA Express also available.
Monthly Program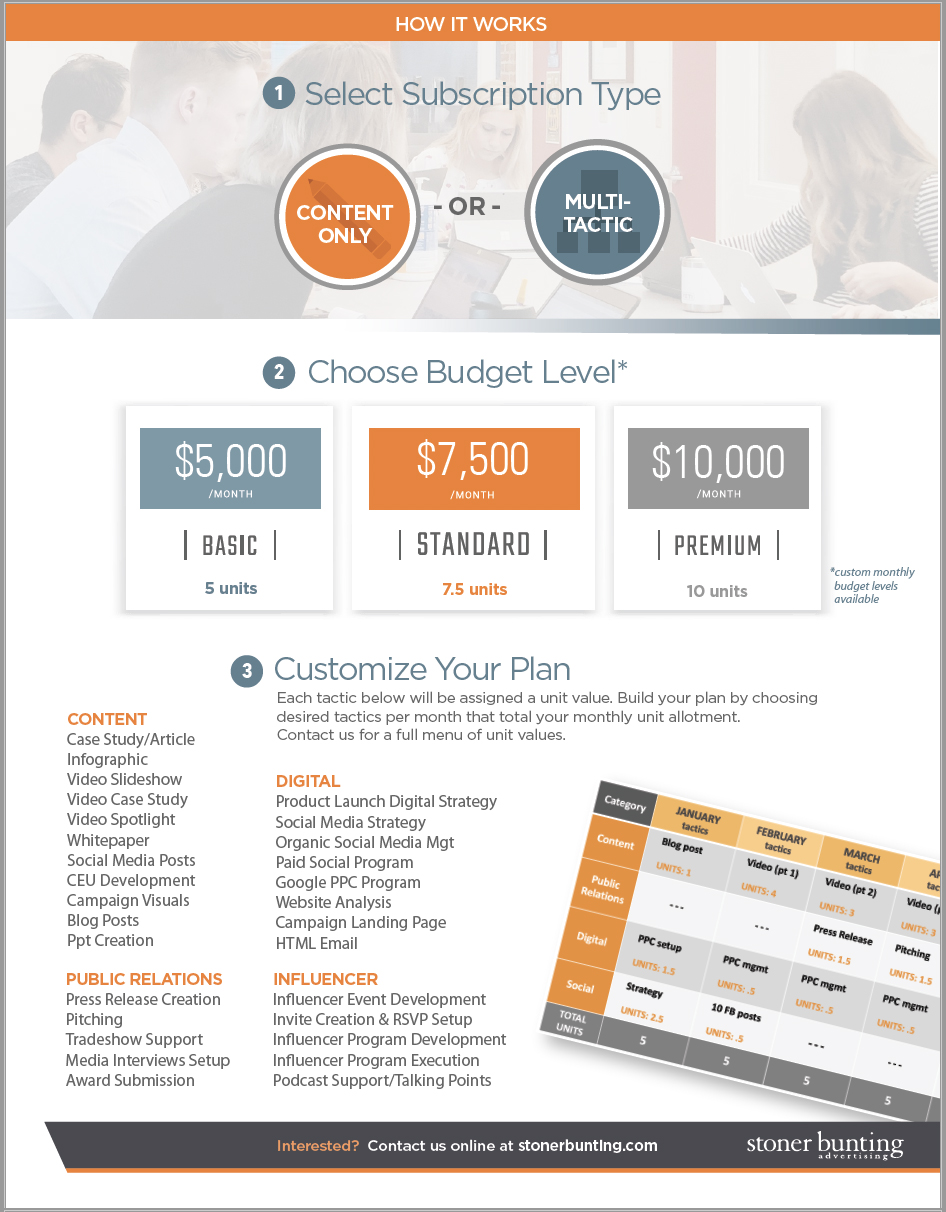 Whether it's for ongoing Public Relations services or we have a consistent, integrated relationship that requires Account Service, you get bang for the buck and constant status updates and progress reports.
MONTHLY SUBSCRIPTION SERVICE – Flexible marketing support. Tap into Stoner Bunting's agency expertise and network of influencers with a flexible monthly engagement option that gives you the power to choose the kind of work you need when you need it – at a monthly investment level that fits your budget.
SCHEDULE WITH FLEXIBILITY – Roll out initiatives or boost content volume over a scheduled period of time
MANAGE YOUR BUDGET – Fit initiatives within preferred monthly budget parameters and volume pricing
EXPERIENCE CONSISTENT PROGRESS – Make steady headway toward goals by completing work constantly. Use as a standalone program or to supplementother planned initiatives
BUILD RESULTS – While larger initiatives are in the wings, generate measurable results with subscription accomplishments
Build your monthly subscription with these three easy steps.
Select the subscription type that best suits your needs.
Choose your budget level.
Customize your plan using the tactical menu.