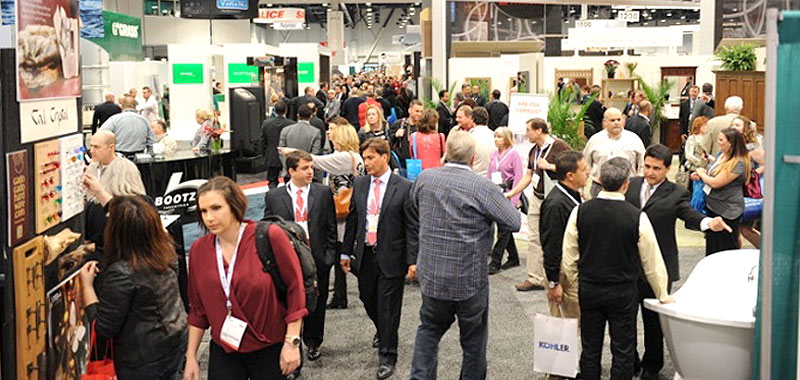 Trade show season for the home and building products industry is rapidly approaching. While we have a few months until DCW takes over Orlando, planning is well underway and 2017 is shaping up to be a great year for our exhibiting clients.
IBS and KBIS (DCW) join the AD Home Show, ICFF, NeoCon, AIA and dozens of shows in supporting our industry and the manufacturers that move it forward. They aren't places to sell products, but rather allow architects, designers, builders, contractors and consumers to kick the tires, window-shop and see what's new in the world of building products.
If you're a home and building products manufacturer thinking about exhibiting at your first major trade show, there are a few rules to know. After all, in leaner times, trade show participation is no easy decision as the costs and expectations can create a losing proposition to the uninformed and unprepared.
Where Should You Start?
The first element of pre-show planning is determining which shows to attend in any given year. Not every show will be worth the investment, and it's important to focus on the ones that will have the most value to your business.
Avoid exhibiting at new shows in their first year. For these — and any show that is new to your company — walk the show for the first year to get a sense of the audience and decide if it is worth exhibiting the next year. If it is your first year at a show, be sure to ask for a discount on your booth space. Show organizers are anxious to get new blood and will generally agree.
Look for opportunities to present seminars or offer CEUs. Trade shows that are annexed to larger conventions (think AIA, KBIS, IBS, etc.) can struggle to get the attention of business professionals focused on keeping their credentials up to date. Offer a CEU course gives them something more than a sales pitch in return for their time. Shows that allow you to present give more chances to connect with your audience and are a better investment.
Do your homework on any show you are considering. In addition to checking out the show's site for specs on the audience size and demographics, search for reviews of last year's show. Industry bloggers in the A&D community are a great resource for unvarnished opinions.
Pro Tip
If and when you do plan to exhibit at a show, reserve your space as soon as possible to get a prime booth space. You don't want to get stuck with the location leftovers to last minute books.
Ultimately, choosing the right agency partner is the best way to make an informed trade show decision. From strategy through planning through execution, we have the know-how to make your trade show experience a successful proposition.