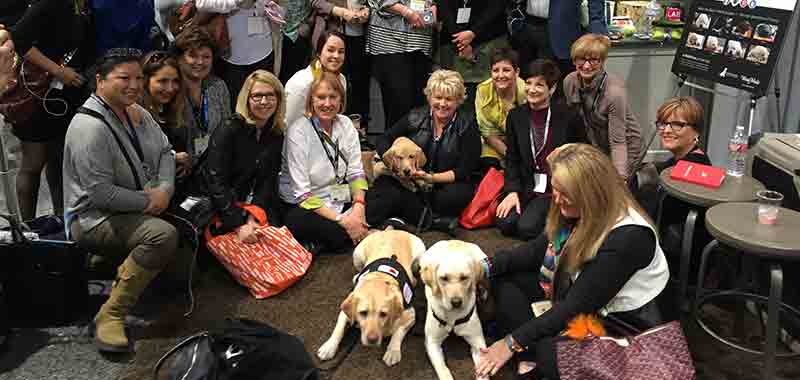 The 2nd annual Design & Construction Week (DCW), a set of five influential design and construction industry shows, has come to an end. From January 18th through the 23rd, 125,000+ residential construction and design professionals convened in Las Vegas, meeting with 3,750 exhibitors in over 4.7 million net square feet of exhibits.
DCW 2015 included the NAHB International Builders' Show (IBS), the Kitchen & Bath Industry Show (KBIS), the International Window Coverings Expo, Las Vegas Market, and the International Surface Event (TISE). TISE included three individual trade shows, SURFACES, StonExpo/Marmomacc Americas, and TileExpo.
Stoner Bunting was lucky to count as four of the 125,000+ attendees, representing and visiting with many of our clients in attendance. During DCW we led a media tour, met with editorial press, conducted interviews with news media outlets, demonstrated products, hosted dinners, and walked a combined 45 miles throughout a dozen convention centers and hotels. Now that we are home, rested, and back in the swing of things, it's time to reflect on our thoughts and feelings from a crazy few days in Las Vegas.
Booth & Show Trends
While walking and working the show, we couldn't help but marvel at the innovative booth designs and show trends throughout Las Vegas. DCW truly brings together amazingly talented industry professionals, and the highly interactive and engaging booth designs stood out.
Everything just seemed bigger, better and more thought out for 2015. While the improving economy certainly helps with the atmosphere at shows like these, hiring talented agencies and designers to design beautiful and inviting trade show booths, complete with excellent marketing materials, certainly helped.
Below are a couple of examples of what some of our own clients did to stand out at this year's show.
Innovative Engagement For a Deserving Cause
While we were wowed with many organizations and companies at the show, we are particularly proud of the innovative ways we helped our clients engaged the masses at DCW.
At KBIS, Wood-Mode Fine Custom Cabinetry made quite the impact by featuring four Susquehanna Service Dogs from right here in Central Pennsylvania. The pups are part of an ongoing partnership with the non-profit organization. Originally used in a video to demonstrate Wood-Mode's Pet Parlor lifestyle concept, we all thought it wise to include them in a live demonstration of the Pet Parlor concept in Las Vegas.
Original Pet Parlor Lifestyle Concept Video:
While the dogs were there to support the brand, their main goal was to help raise awareness and money for Susquehanna Service Dogs. At the show we successfully promoted our four-legged friends with a social media campaign based utilizing the official KBIS hashtag #KBISselfie. For every person who posted a selfie with the dogs to social media, and tagged #KBISselfie and @woodmode, Wood-Mode donated $5.00 to the organization. We are happy to report that over 275 posts were made on Facebook, Twitter, Instagram, and Pinterest during the show.
Unique, Live Demonstrations
At SURFACES, one of three shows that fall under TISE, our client INSTALL provided unique, live demonstrations for attendees and other show goers. INSTALL, the North American alliance of flooring mills, manufacturers, consultants, associations, contractors and installers, wanted to put its money where its mouth is, and chose to demonstrate its superior flooring installation certification program during the actual show.
These demonstrations were able to illustrate how INSTALL is able to provide unparalleled distribution of industry-directed training and certifications to incoming and existing installers that can be delivered to floorcovering customers through superior and dependable contractors.
Final Thoughts
Overall, Design & Construction Week 2015 proved to be an experience that was second-to-none. There is no other show that gathers as many construction and design industry professionals and exhibitors in one place, and we are looking forward to attending again in 2016. To all of our friends from DCW, thank you for making it such a memorable experience. Cheers!
To learn trade show do's and don'ts, download our free Trade Show Zero to Hero: Do's and Don'ts tip sheet.