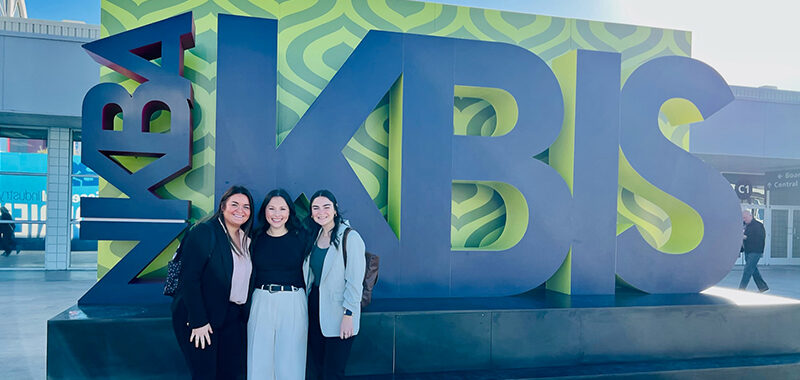 For the first time ever, Design + Construction Week (DCW) 2023 was a fusion of the Kitchen & Bath Industry Show (KBIS), the International Builders' Show (IBS), The International Surfaces Event (TISE or Surfaces), and the National Hardware Show (NHS). Traditionally only KBIS and IBS, the addition of two more shows marked the 10th anniversary of DCW, and our team was ready for the huge celebration.
And it was a party—probably the largest trade show in North America—encompassing roughly 1 million net square feet of exhibit space. Despite its sheer size, our team agreed DCW 2023 had a surprisingly small feel (thanks to Tesla Tunnels and comfortable shoes). Not to mention the record setting attendance. Everyone was excited to see each other in person again, and we carefully elbowed our way through the crowd of more than 200,000.
Now that we're home and have dusted off the glitter of Las Vegas, our minds are still swirling with all the eye-catching nouveau trends—retro hues, striking patterns, health and wellness, and versatile spaces. Here's a roundup of some of our favorite trends from this year's DCW.

Colorful Whimsy
We couldn't help but get caught up in all the whimsical patterns and splashes of color! From mosaic tiles on decorative walls, countertops, and even flooring to wallpaper, patterns were everywhere. Gone are the minimalist white walls and monochromatic décor. DCW was awash with boldness and loud pops of color — a warm, welcomed embrace after the pandemic.
Yes, it seemed like many exhibits at KBIS wanted to give homes and interiors a warm hug. We were carried back to bygone eras with traditional appliance looks from SMEG, featuring the brand's rounded edges and retro inspired colors, as well as Kohler's award-winning booth which brought back well-loved hues in its Heritage Colors. Nothing is as comforting as nostalgia.


All Natural
Perhaps except for nature. It's hard to top nature when it comes to calm and relaxation—which, of course, makes us feel more comfortable, right?
With so much focus on occupant wellbeing in interior design today, many booths added touches of biophilia to help us think soothing thoughts amid the hustle and bustle of the tradeshow. From living walls to water features, exhibitors encouraged us to nama-stay and linger with them just a little longer.
This is one reason why we believe Kohler won Best of Show. They truly captured all of the senses in one exhibit, and that's no small feat. They encapsulated many of our top trends—seen throughout the show—by focusing on vintage colors, health and wellness (their new line, Sprig), and nature (showcasing shower features and faucets with running water).
While bringing nature inside our living spaces is possible with magnificent lighting, stone sinks, wood flooring, and organic shapes, nothing matches time actually spent outside. Our love of the outdoors is trending in a big way with outdoor kitchens like those created by Urban Bonfire. These luxury outdoor kitchens bring all your indoor cooking needs to the great outdoors with weather-safe materials, creating entertaining spaces to truly live in … outside.


Small Is Big
Nothing makes life easier than versatile spaces. While maximizing space and moving the comfort of the indoors outside is hot right now, making the most of small spaces inside was a trend we couldn't ignore. From an invisible induction cooking system that combined material-matching with technology–all hidden within a countertop—to hidden cabinets and sliding wall systems that cleverly hid appliances and clutter, we were astounded at how big small spaces can be.
Hettich drew us in with its ingenious ways to maximize space and reduce clutter. Masters of hiding everything that we deem essential, we were in awe of their technology behind organization. Because as much as we love having our favorite, nostalgic items close to us or that handheld blender for on-the-go smoothies at our fingertips, sometimes we want to tuck those items away, while still keeping them close by.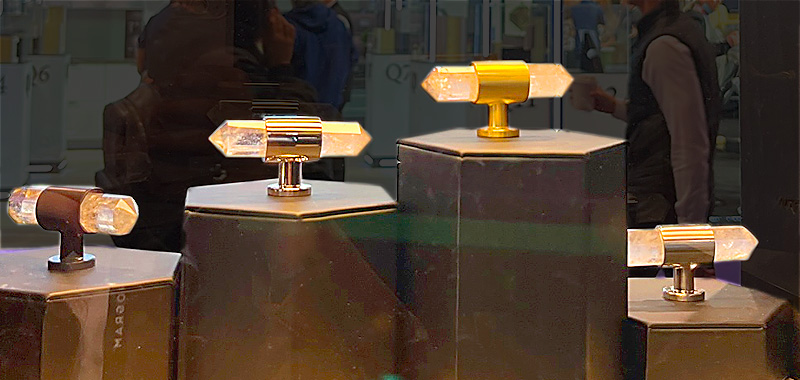 Statement Pieces
Of course, bringing luxurious touches to our whimsical splashes of color, escapes to nature, and versatile spaces never hurts. Who doesn't want to linger in a freestanding bathtub that draws your eye whenever you enter the room? Or indulge in jewelry for your home with subtle accents, such as cabinet hardware and drawer pulls from Belwith Keeler (some of which reminded us of stunning cufflinks). While simplifying your life and relaxing, it's important to be indulgent, as well. And 2023 is all about making a statement.
Stay tuned for more takeaways from DCW 2023, as we look at what will be making our lives easier and more sustainable!
Need marketing support for your building products? We can help. Fill out an inquiry or contact Dana Gulick: dgulick@stonerbunting.com.