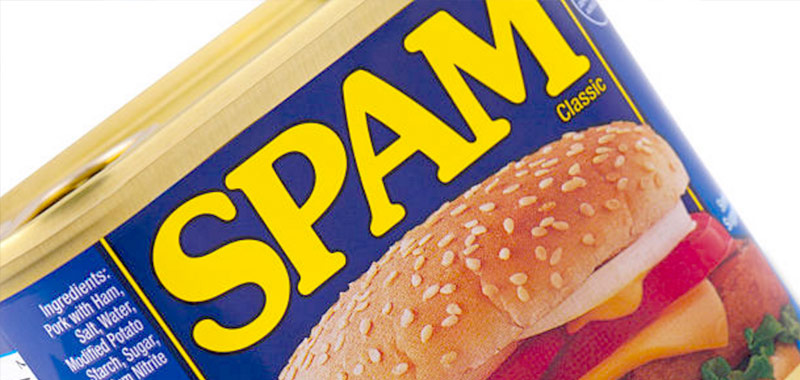 As a digital marketer, I've done a lot of email marketing over the last 20 years. It's a great media channel that allows targeted communication based on a high degree of segmentation. While the discipline is complicated when done correctly, there's one principle that's easy to understand; never buy an email list for use in your email marketing programs.
I've had clients, bosses and team member all ask what my beef is with purchased lists. They cite that there are double-opt in lists available for under 10¢/name, and sometime they can come with demographic information including company name, job title and mailing address. Sounds like a bargain!
It isn't.
While the discipline is complicated when done correctly, there's one principle of email marketing that's easy to understand; never buy an email list for use in your email marketing programs.
In fact, if you buy an email list and use it for your owned channel of email marketing, you're probably going to damage your brand.
Here are five reasons why you should never buy an email list.
1. Your Email Service Provider Doesn't Allow It
Most marketing agencies or companies with internal marketing departments use a third-party service to send email on their behalf (MailChimp, Constant Contact, Emma, Marketo, Pardot etc.). These email service providers (ESPs) need to be concerned about their reputation as an email service provider, and thus define rules in their Terms of Service (TOS) for how marketers can use their software tool.
All reputable ESPs will have some language in their TOS that strictly prohibits the use of a purchased list on their platform. If they determined that a marketer has done so, the marketer can be kicked off the service. The TOSs of some ESPs can also give them the ability to institute fines or take legal action against companies that violate the terms.
2. U.S. and Canadian Legislation Don't Allow It
Most people that deal with marketing have heard of CAN-SPAM. But fewer people really know what the provisions of the CAN-SPAM legislation are (or it's counterpart in Canada, CASL). The high-level takeaway is that you're not allowed to email people who didn't specifically ask for you to send them email.
While there are lots of nuances to this legislation that allow for exceptions to this blanket statement, the only way to ensure that you completely conform to CAN-SPAM and CASL is to make sure you have a mechanism in place to accept and document the specific request from each individual you wish to email. This will never be the case with a purchased list, and since the recipients don't even know who you are, it's clear they didn't specifically ask you to email them.
By the way, violating CAN-SPAM in the U.S. can carry a $16,000 fine per violation (read: per email address sent). In fact, the legislation in Canada is much stricter than in the U.S., and some of the nuanced exceptions to "permission-based email" are much narrower. As a result, we often counsel clients to filter out Canadian email addresses from their owned lists if there is any uncertainty as to how the addresses were acquired.
3. The Quality of the List is Probably Poor
Regardless of how high-quality a sales rep tells you their list is, if it's for sale, it's not true. The mere fact that an email list is available for purchase throws its quality into question.
The performance of a purchased list (as measured by open rate and click-through rate) is all-but guaranteed to be significantly lower than lists that are made up of recipients that requested to receive emails specifically from you. Purchased lists often contain a lot of outdated email addresses. A high bounce rate means lower deliverability.
Here's why:
Purchased lists contain email addresses collected in violation of CAN-SPAM and CASL (see #2 above).
Multiple marketers can purchase the same list and degrade its viability through poor emailing practices (as evidenced by the fact that they are willing to purchase a list in the first place).
It's hard enough not to annoy customers with your own marketing messages, but it's even harder when these customers may have already been annoyed by hordes of marketers selling to them before you bought the list.
4. People on a Purchased List Don't Know Who You Are
Even when list houses state that the lists are created from opted-in recipients that "agreed to receive emails for our company and our partners," chances are the recipients didn't expect a partner to be defined as "anyone willing to pay 50¢ for my email address."
Permission-based marketing aside, people who aren't expecting to hear from your company are less likely to engage with your email. Expect lower open rates, lower click-through rates – and lower ROI of your marketing dollars.
Furthermore, the chances that a customer will mark your email as SPAM go way up when you use a purchased email list. In the world of email marketing, anything more than one SPAM classification per 1,000 emails sent (0.1%) is a red flag to ESPs to consider taking action against you. How likely do you think it is to keep this number at 0.1% when you are using a purchased list?
5. Because You Can't Strengthen Your Brand with Customers if You're a SPAMMER
Yup. That's Right. If you buy an email list, you're a SPAMMER. But this statement isn't a rehash of the CAN-SPAM/CASL points made earlier. This is about your brand in the eyes of the customers you are trying to reach.
By inviting yourself into a customer's inbox without permission, you cast your brand in a different light. Is that any way to start a relationship with a potential customer? Branding is about relationships, so you better get off on the right foot. There's a lot at stake if you don't. The Internet is forever, and a series of rants, abuse complaints and negative ratings across social media, consumer advocate sites and Google's search results pages will stick with a brand. Bad press in these arenas can be hard to shake.
What About Email Lists Offered By Publishers?
Publishers these days have a multitude of channels where they can place ads for brands, many of them threaded together in cohesive packages. For example, a publisher could offer a print ad in its magazine, a banner ad on its web site, and a custom email distribution to its subscribers. As a marketer, you can arrange to email your content to a publisher's subscribers.
But isn't this in violation of CAN-SPAM? Well, probably not. It really all comes down to the TOS of the publisher, but this is something that is woven into their business model so the reputable publications are getting it right more often than not.
The main difference here is that publishers sell ad space, and readers understand the game. When they subscribe to a publisher's email list, they know they will be getting content from both the publisher and its advertisers. If the balance is out of whack, they'll unsubscribe, and the publisher will be left to rebalance the advertising/editorial mix.
Use common sense when aligning with a publisher. If they'll let you do whatever you want with their list with few rules or guidelines, they may be playing too fast and loose. But if they set clear parameters for what you can and can't do, they are probably paying attention to the right things.
So What's the Alternative to Purchasing Lists?
My father always said there are no shortcuts in life. Unfortunately this edict is true in email marketing. Doing it right is a long, slow burn that requires a good plan, consistent adherence to best practices, and repetition.
Marketers need to start by generating good content, and then use that content to strategically attract users that are willing to exchange their email address for it and other content that is valuable to them.
In the B-to-B world, this content can be articles, whitepapers or even functional online tools that help customers in their business. B-to-C brands often leverage online coupons or mobile apps. And every channel in a marketer's media mix is an opportunity to promote this content and collect email addresses.
What's common across different business segments is that brands need to be offering customers something meaningful in exchange for their email address, and treating that address as though it was something of value — because it definitely is.