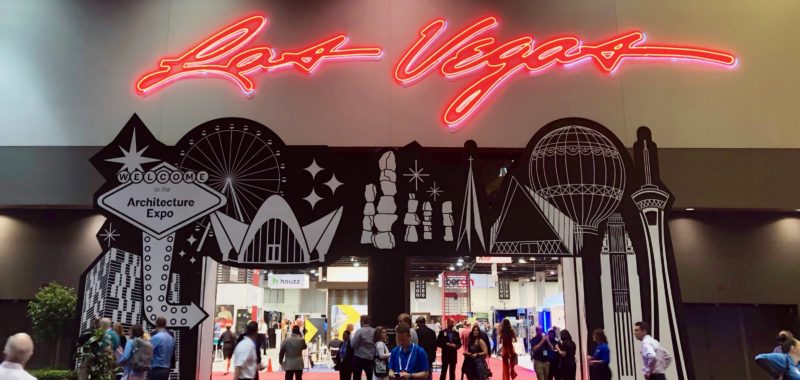 For a building product manufacturer, the AIA Conference on Architecture represents unparalleled opportunity. Exhibiting at this industry-leading trade show can lead to press coverage, valuable connections with specifiers and – perhaps most importantly – increased buzz around your company that establishes your brand as a must-have product for architects and designers.
Exhibiting at a show like #A19CON is no easy feat. From booth costs to travel arrangements, hotel accommodations to labor costs, it's a considerable investment for all brands – especially startups and smaller companies. Therefore, it's essential that exhibitors craft the right trade show strategy that builds buzz, foster the right connections and leads to a positive return on investment.
To showcase this, we've handpicked five the most impressive booth stories at last week's AIA Conference on Architecture in Las Vegas. They each stood out for a unique combination of engagement strategies, in-booth demonstrations, giveaways and other worthy praise. Each booth is also a reminder of no matter how big or small a company is – or how big or small one's marketing budget is – you can make a strong impact at the architecture industry's biggest event of the year.
A Winning Engagement Strategy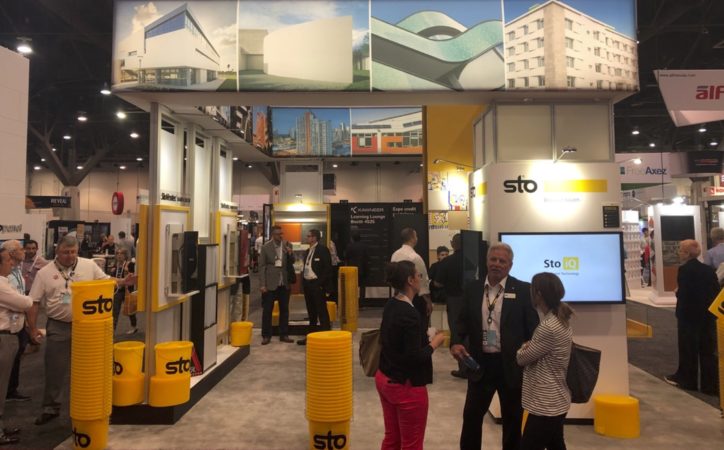 "Excuse me, but would you like your portrait painted by our artist in residence?" This isn't something you expect to hear at 10am on the first day of an architecture and design trade show. But that's exactly what happened to us when we passed by the Sto booth at #A19CON.
A world leader in the design and production of continuous insulation cladding systems, rainscreen systems, prefabrication solutions, air and moisture barriers, coatings, and restoration solutions, Sto is an established force in the industry. However, how do you stand out when there are 600+ other established brands in the same convention center?
Sto partnered with Atlanta-based artist Ray Swinn to create a wall of show floor portraits. This was in addition to handing out the now-iconic yellow bucket – a staple of their booth that could be seen all over the Las Vegas Convention Center.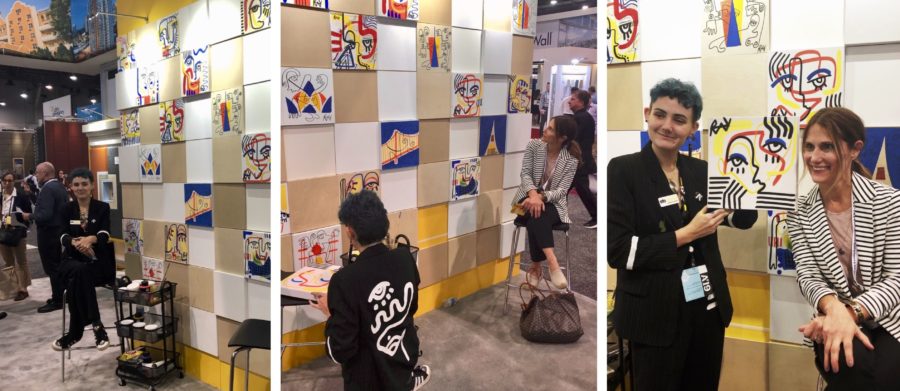 As an abstract artist, Swinn has a unique perspective on the world around her. This contributed to a wildly entertaining wall of portraits by the end of the show. Stoner Bunting's own Nicole Bromley, pictured below, got in on the action and was immortalized at Sto's booth. She also received more than a few offers to buy her portrait from Facebook friends and Instagram followers. High praise indeed.
While it's fun to have your portrait painted, there's an important lesson in this. Sto dominated social media at the show with excited architects, media reps and rival manufacturers lining up to have their portraits painted. The tiles also showcased the brand's cladding system, doing double duty. Combined with the yellow buckets walking the show floor, it was hard to miss Sto at #A19CON. That's a strong return on investment if you ask us.
Size and Scale Impress at YKK AP America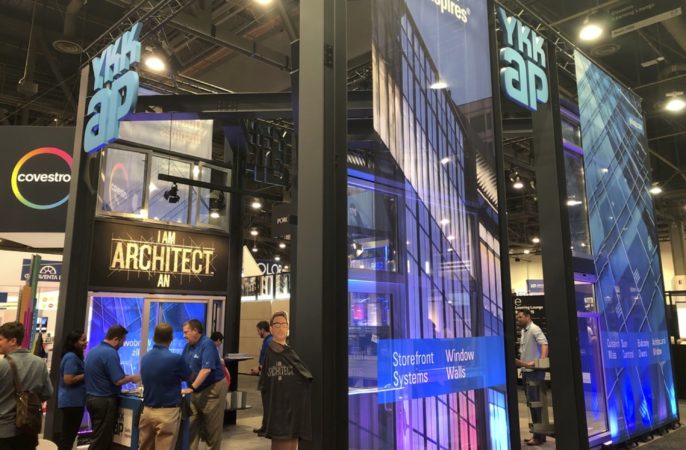 Located just a few aisles from Sto, YKK AP America had an equally impressive booth for very different reasons. It was hard to miss the fenestration product's oversized presence – complete with massive windows, calming LED lighting and two-story projections.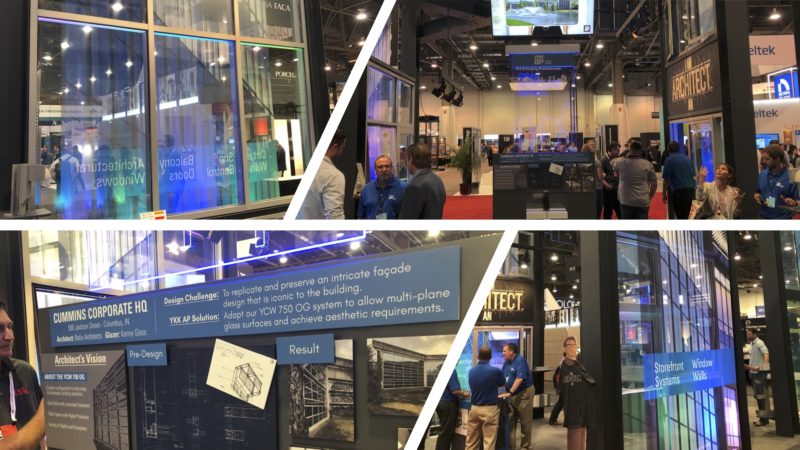 Centrally located in the main hall, YKK's booth was inviting and told a story. Multiple case studies showcased recent projects, full-size installations allowed architects and media to experience the brand's residential and commercial windows and doors and a friendly booth staff was helpful and eager to share information and ideas.
While they might not have had an artist in residence, YKK made up for it with a dominating booth that impressed with its size and scale.
Putting the Product Where it Counts
Stoner Bunting client CertainTeed also impressed with its booth design and product storytelling. Located just inside the main entrance to the expo, the industry leader showcased its full line of ceiling products.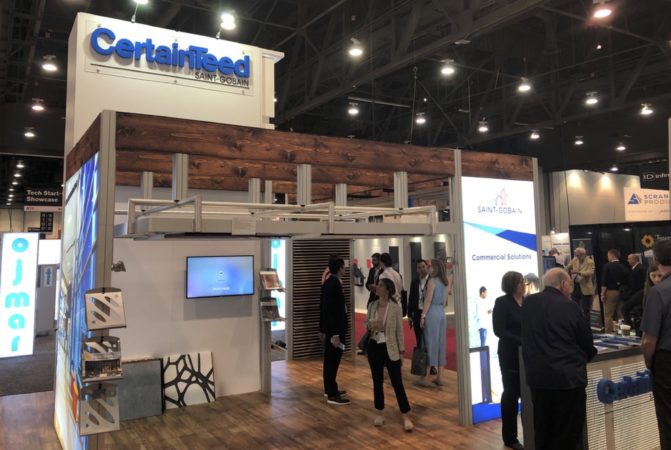 From acoustical panels for classrooms and hospitals to stylish clouds and baffles in atriums and auditoriums, a wide variety of designs and products were brought to life with mock installations. Instead of having sample materials on tables or mounted vertically on the wall, these installations helped architects and media experience the products in situation.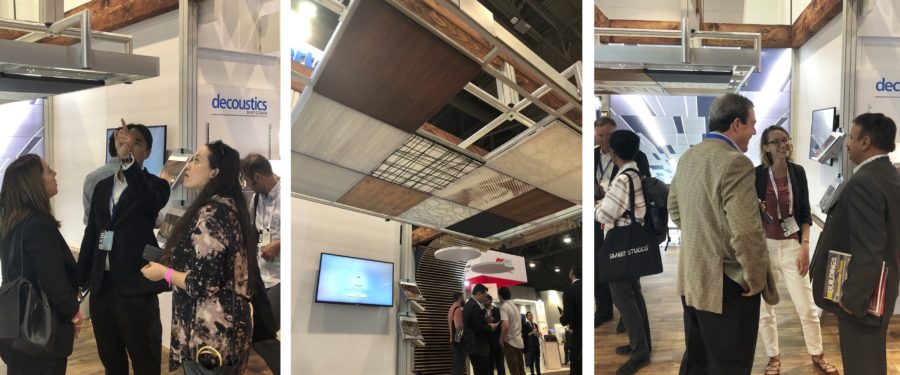 Product designer Chris Le (above left) was also on hand to showcase his creations. Here he can be seen discussing the installation applications of the brand's Heartfelt modular ceiling system. These patented linear ceiling panels join crisp linearity with unexpected softness and texture, warming both the visual and acoustical experiences of a space.
Doors and Grilles in Motion
Similar to CertainTeed, Stoner Bunting client CornellCookson brought a full range of industry-leading rolling doors and grilles to the #A19CON show floor. What set the company apart was that nearly every display was fully operational with the flick of a switch. Instead of incorporating static displays and miniature product samples, these live demonstrations attracted eyeballs and questions.
One of the most impressive products on display was MicroCoil® Extreme® 300 Series Compact Grille (above left) Engineered to occupy the smallest amount of headroom on the market, it coils in nearly 50% less room then other security grilles. This is a boon for architects and designers working on parking facilities with low headroom.
Other products on the floor included StormDefender™, a maximum-security door designed specifically safe room protection against tornadoes and hurricanes, and SteelWeave™, a security grille with woven stainless-steel mesh material that exudes elegance and a refined sense of design.
The Best of the Rest
Other engaging booth strategies came from brands like Interstate Brick, Behr, Station IX – Reflected Reality and NanaWall.
Interstate Brick (below left and right) featured a craft station where architects and designers could design their own custom brick. The table was filled from the start of the show to the very end. Similarly, Behr brought back its famous "Behr Bear" for #A19CON. Attendees transformed the inconspicuous white polar bear into a vibrant creature, telling an impactful color story in the process.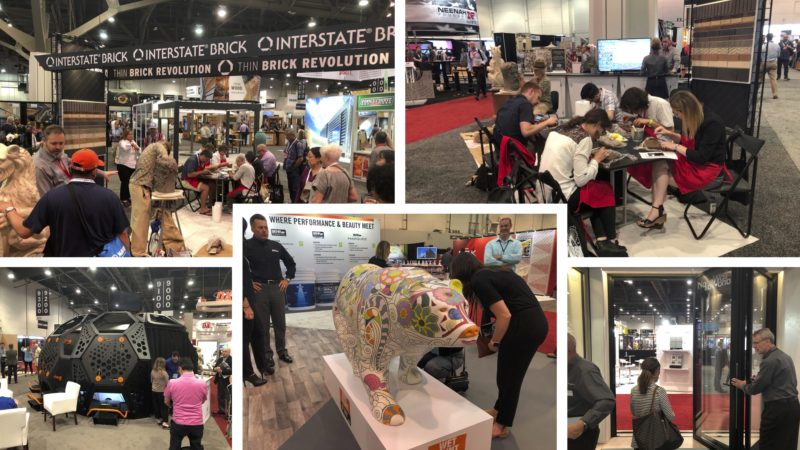 Station IX – Reflected Reality (bottom left) provides training, simulation and visualization applications for a wide range of A&D industry applications. The company's dome-shaped simulator was running at full capacity throughout the show. Meanwhile at NanaWall, the brand's movable glass wall systems were constantly on the go, grabbing the attention of passersby.
Do You Want Help Standing Out from the Crowd?
It's hard to buy the kind of publicity these examples garnered throughout the 2019 AIA Conference on Architecture. That's why it's so important to invest in the right strategy that will benefit your brand and result in positive engagement between you and potential clients on the show floor.
Are you attending AIA in 2020 or another architecture, design or building product trade show? Click here to learn how we can help make the most of your investment.