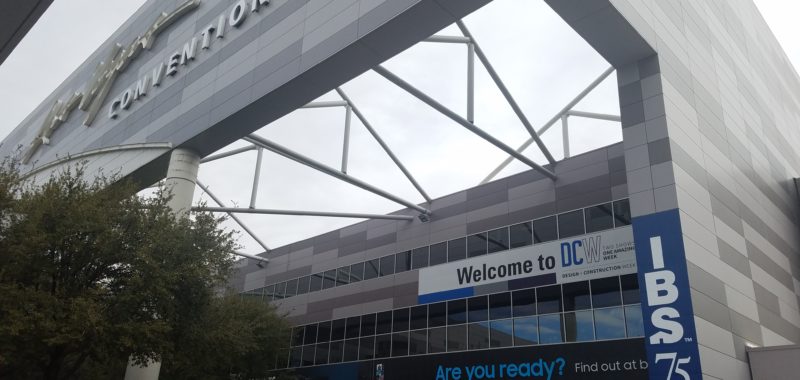 Hot off a surprisingly cold week in Las Vegas (it actually snowed!), our team can't stop talking about the products, ideas, designs, showhomes and more we experienced at Design & Construction Week (DCW), where the Kitchen & Bath Industry Show (KBIS) and the International Builders Show (IBS) team up to showcase the newest from the home and building products industry. With over a million square feet of show floor to cover, it was hard to condense our top take-a-aways, tips and trends we spied…
Everything Is Connected
From selecting the roasting time on your espresso machine to your refrigerator sending you a grocery list to your phone, the level of connectivity has manifested into controlling your entire home in the palm of your hand.
The reigning masters of connectivity, Samsung, continue to be in the forefront of connectivity with their Connected Home interactive booth. Highlighting the smart "hub" of the home, the brand showcased and explained just how it continues to lead the pack of appliance integration control through the average smartphone.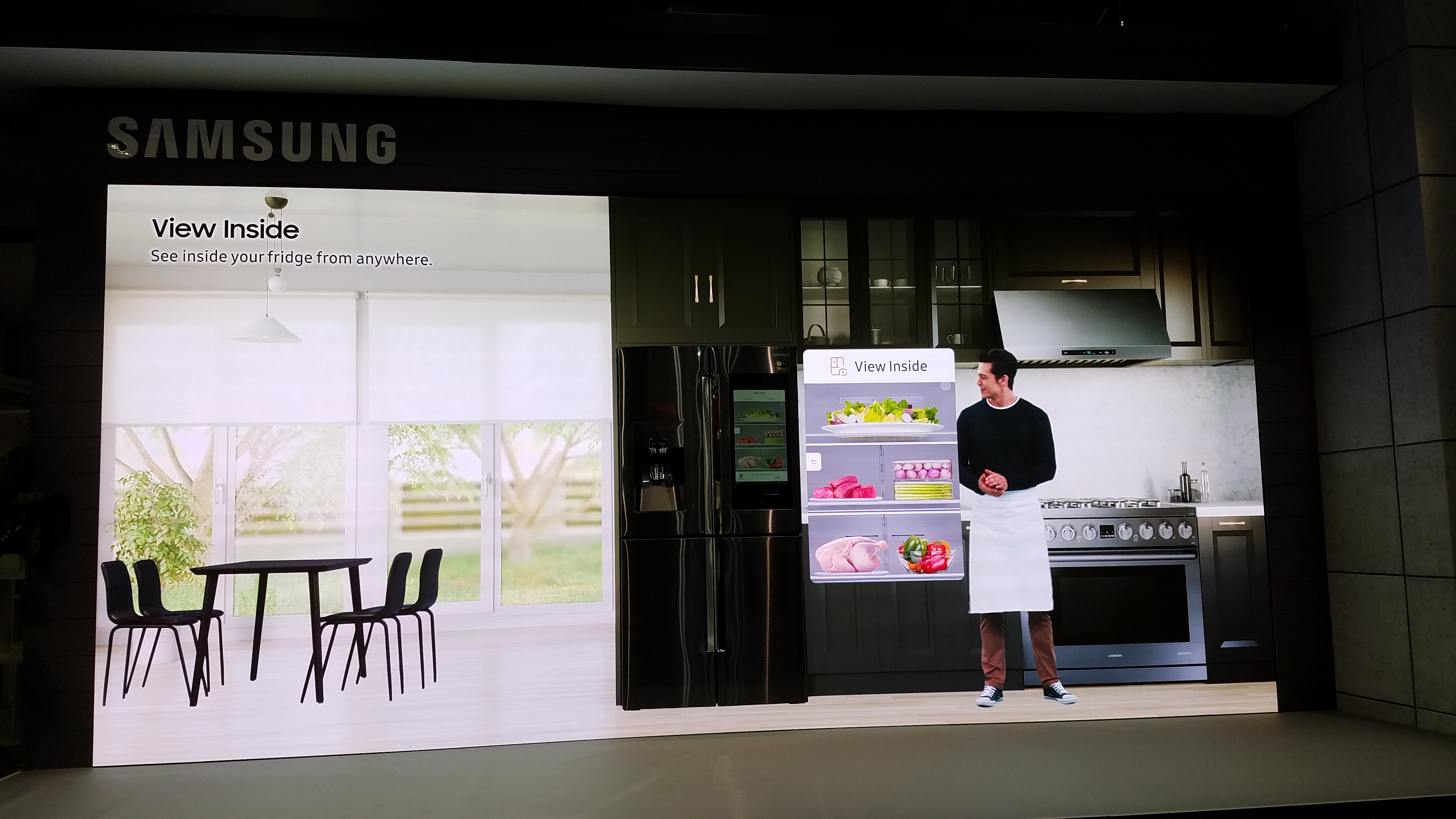 And the bathroom is not excluded! Client Kohler's Numi intelligent toilet provides users with a bevy of features, personalizing the bathroom experience and taking it to a new level. We had a chance to see it "in action" in the booth, and also in black at The New American Remodeled Home. And the technology advances coupled with its sleek, modern lines, transitions us into the next design trend we observed …
Simplified Lines and Designs
With the complication of integration came an overall simplification in the lines of product design. The sleek designs of LG Appliances new Signature Kitchen Suite collection showcase how technology doesn't have to complicate product design, or take away from personal design.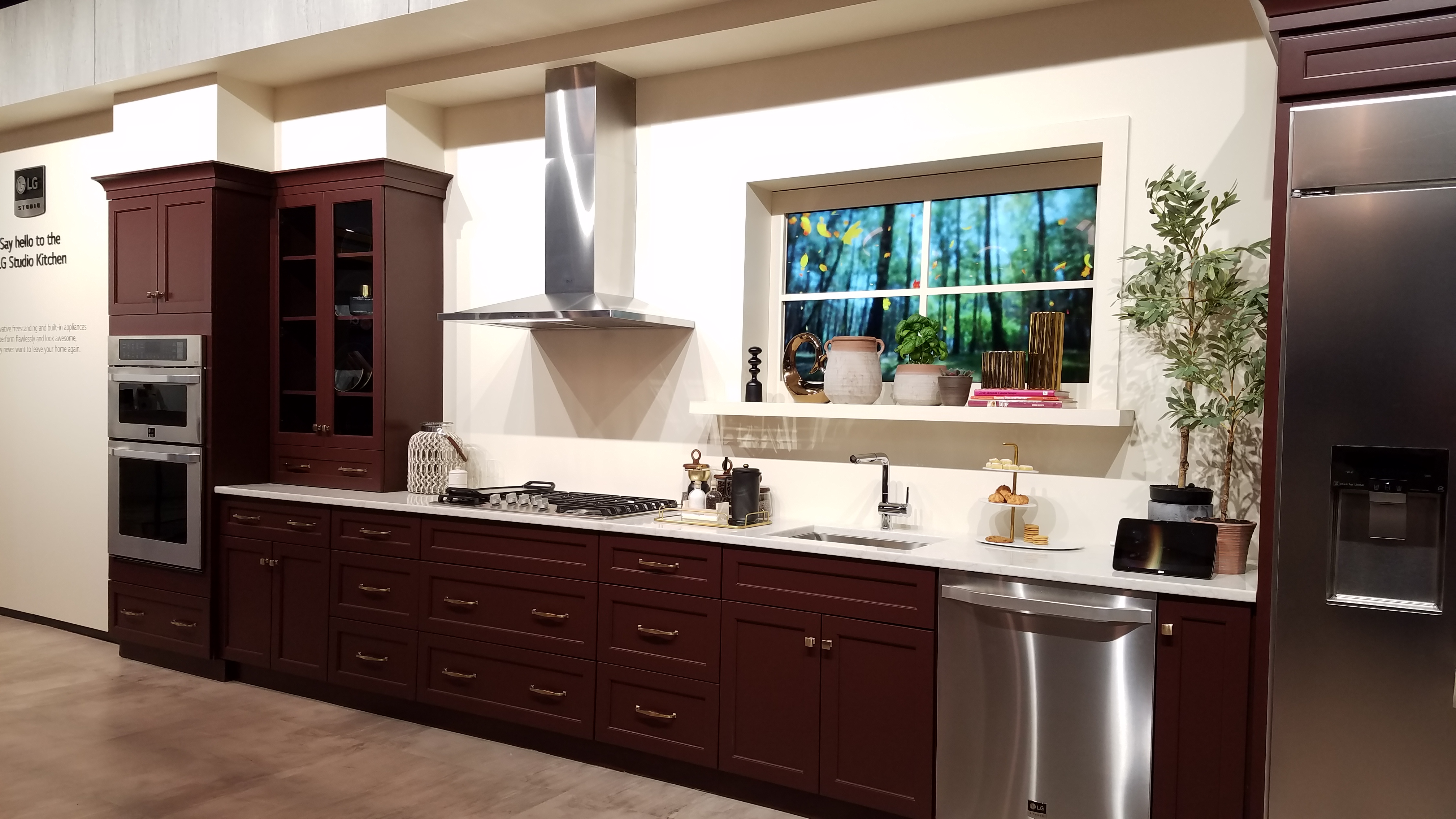 Warm Finishes + Bold Colors
Throughout DCW 2019, attendees were challenged to re-think color norms and trends in the kitchen and bath. Thermador asked attendees to consider, "What is your bold?" Brands were eager to encourage attendees to make a statement by pushing color boundaries.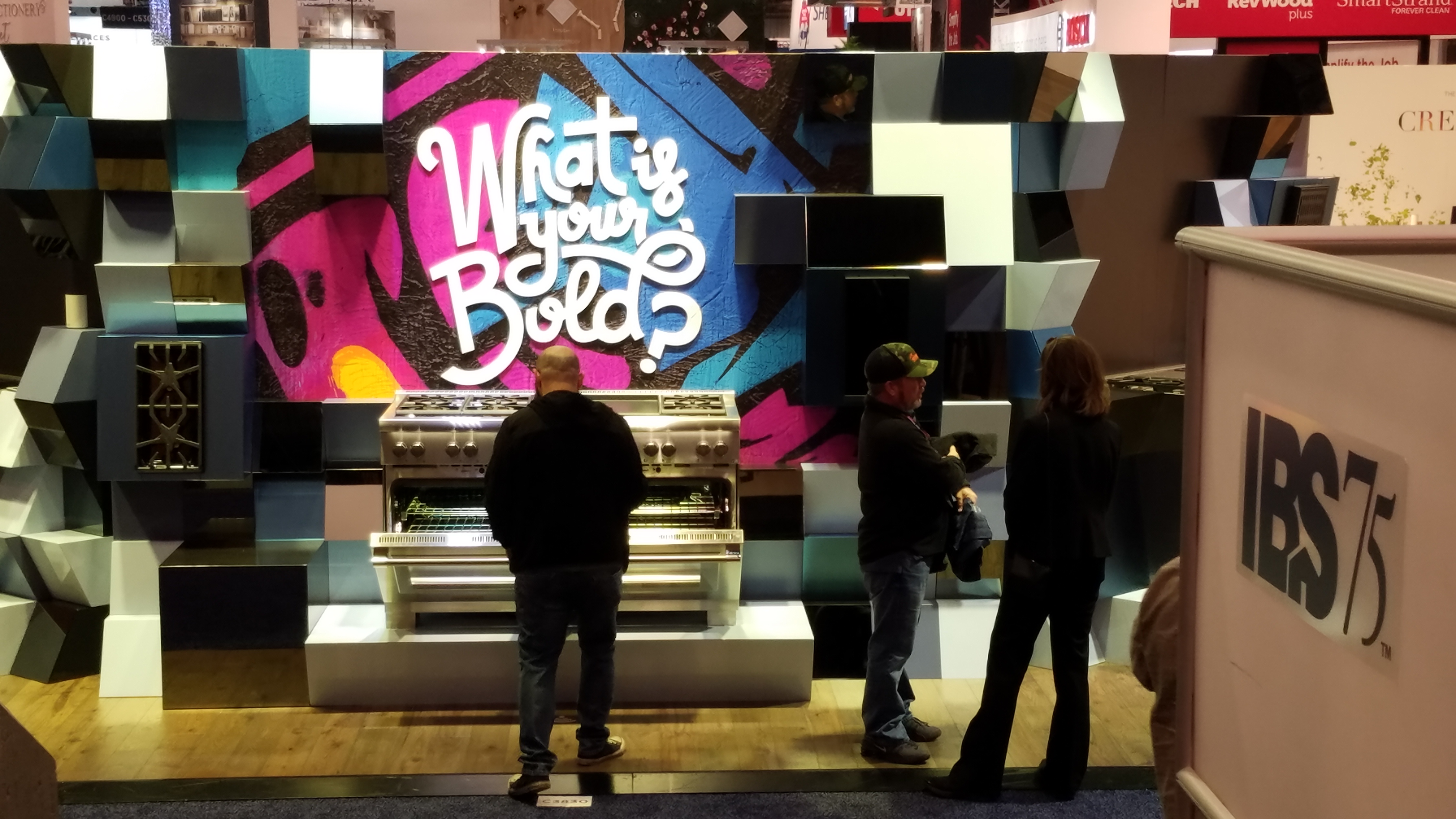 The bold colors and high-design statement made by Sicis' Vetrite Gem Glass collection showcased how to make the ultimate in luxury statements.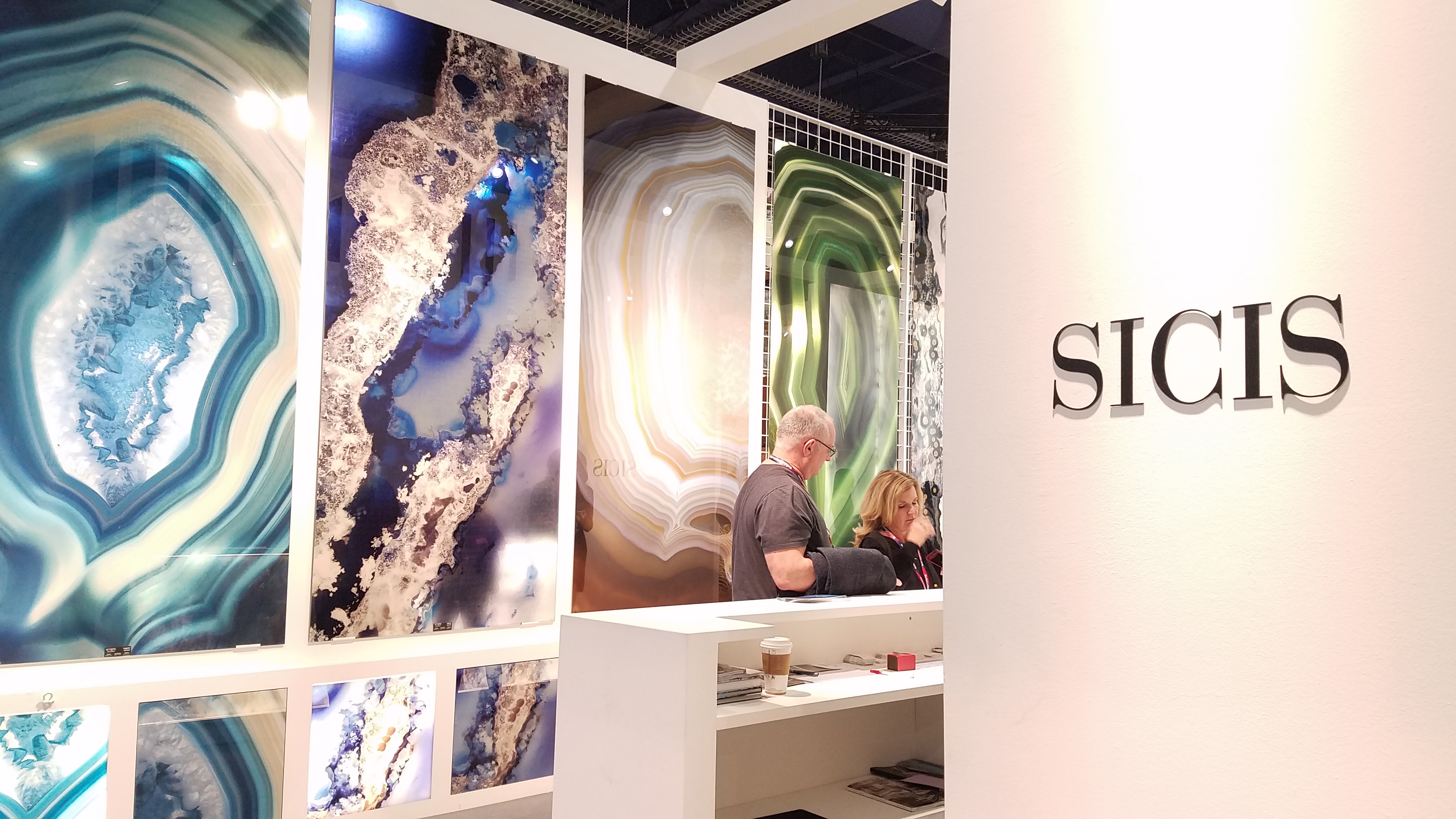 And the one-time inhibition of mixing of patterns saw its demise as manufacturers and designers encourage the concept of layering contrasting patterns and pops of bold color, like Smeg's Dolce & Gabbanna appliance collection and this whimsical comic-inspired tile: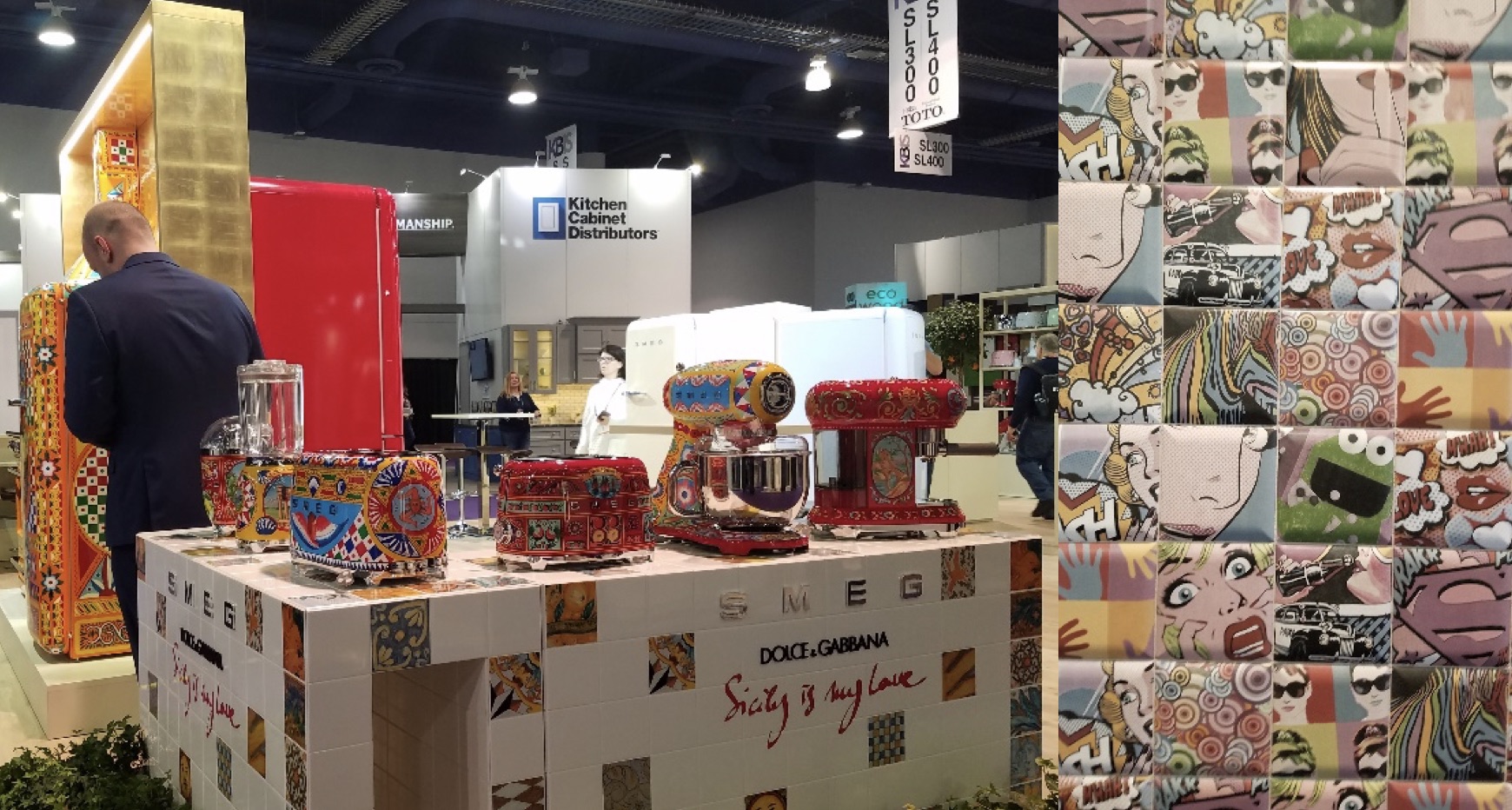 But the biggest, boldest color surprise came in the form of pops of purples and the essence of emerald green, scattered throughout the IBS and KBIS show floors. Tubs, cabinetry and especially appliances, took the giant leap into bringing bold color to the forefront of kitchen and bath design.
Appliance manufacturers, looking to coordinate with the cabinetry and paint trend of moving towards warmer, bolder color schemes, like Benjamin Moore's 2019 Color Trends, also dabbled in the introduction of new finish option. Samsung's Tuscan Stainless perfectly coordinated with Benjamin Moore's greyish-hued, Year of the Year, Metropolitan AF-690.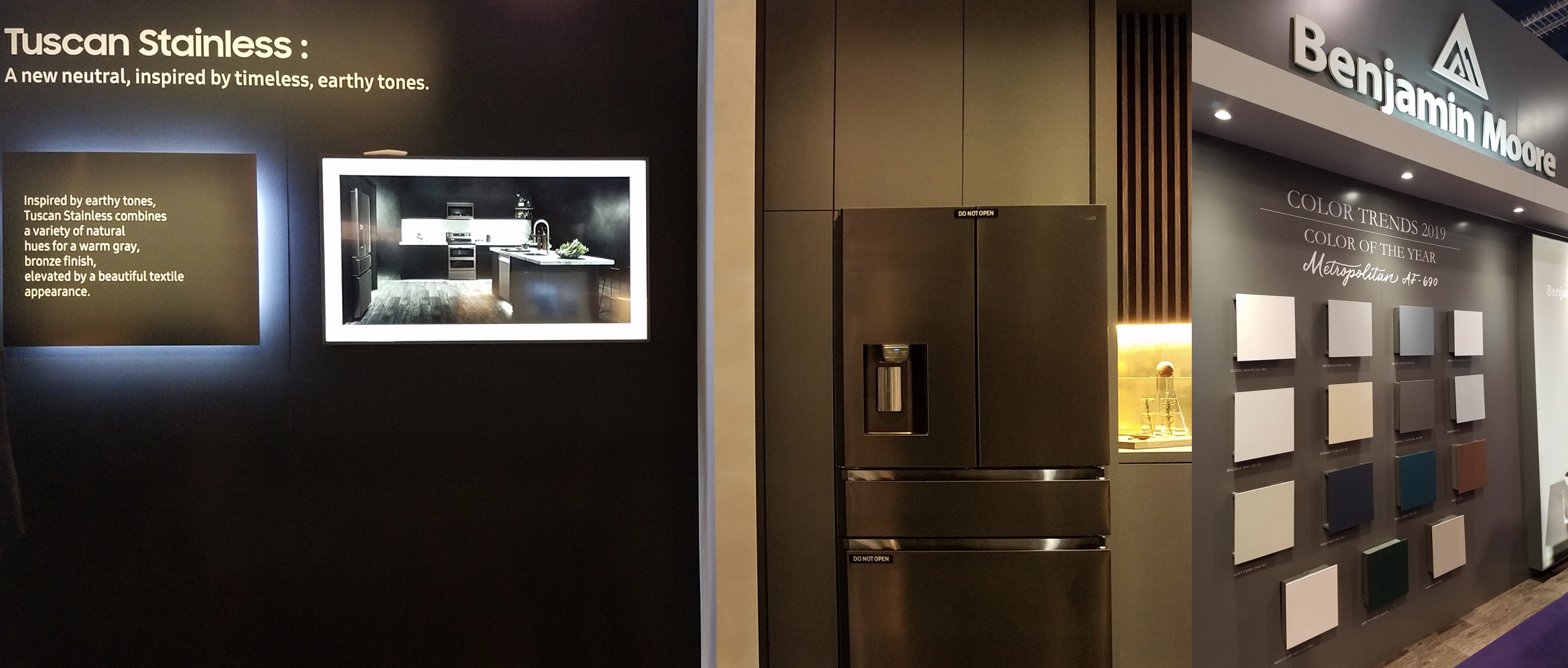 Sustainability Is the New Norm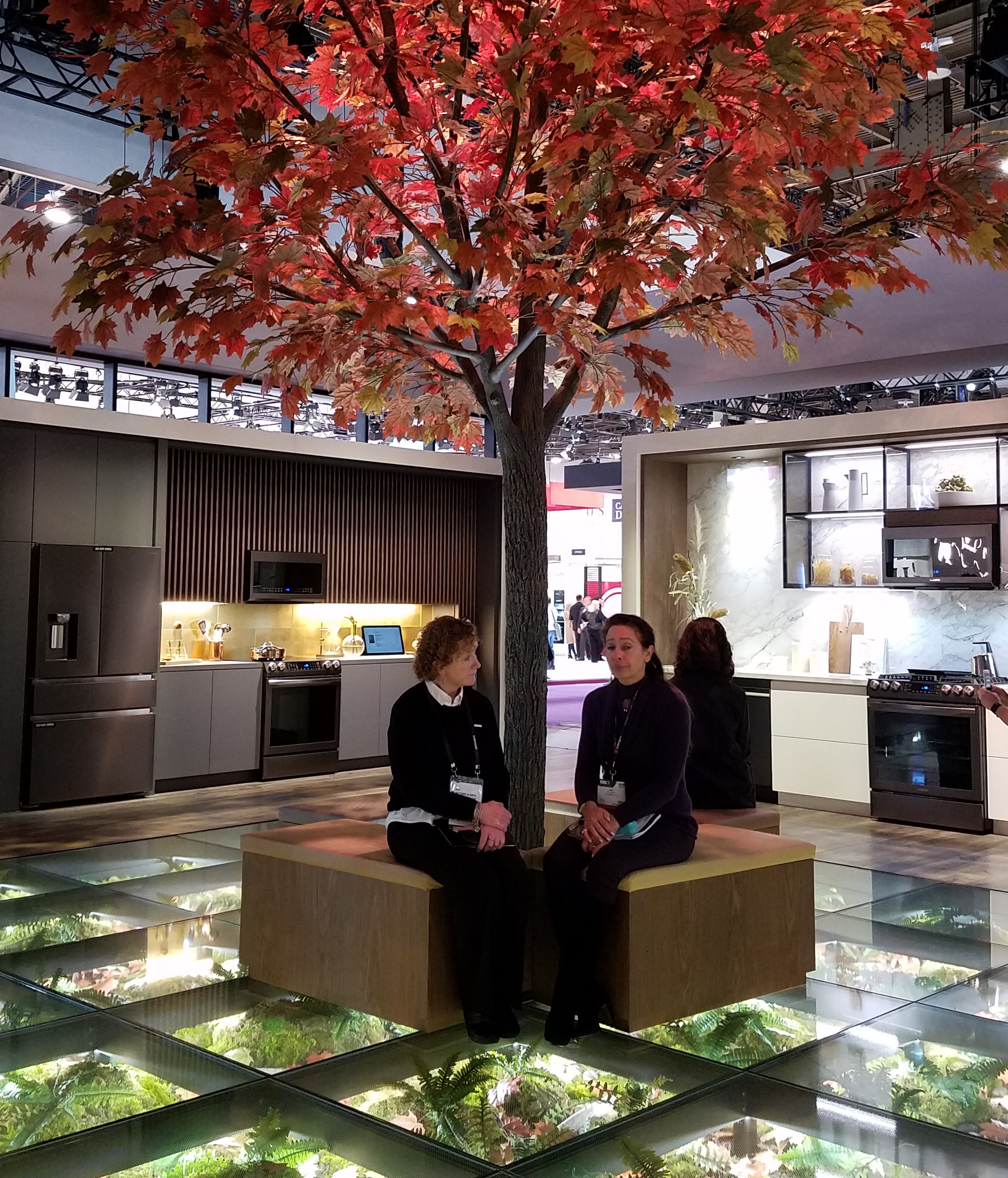 Just a few short years ago, manufacturers specifically created "sustainable" products for a niche market; no longer the exception, many of the products we experienced at KBIS were designed with sustainability as a natural part of the product development process.
In fact, sustainable product innovation continued to be center-stage in every booth, with the re-invention of materials and recycled product. Luxury tile manufacturer, Ann Sacks, introduced their first product designed in collaboration with the Kohler WasteLAB. Made of recycled Kohler porcelain products, the Crackle Collection is not only visually beautiful (in Emerald Green!), but was praised by designers for its design.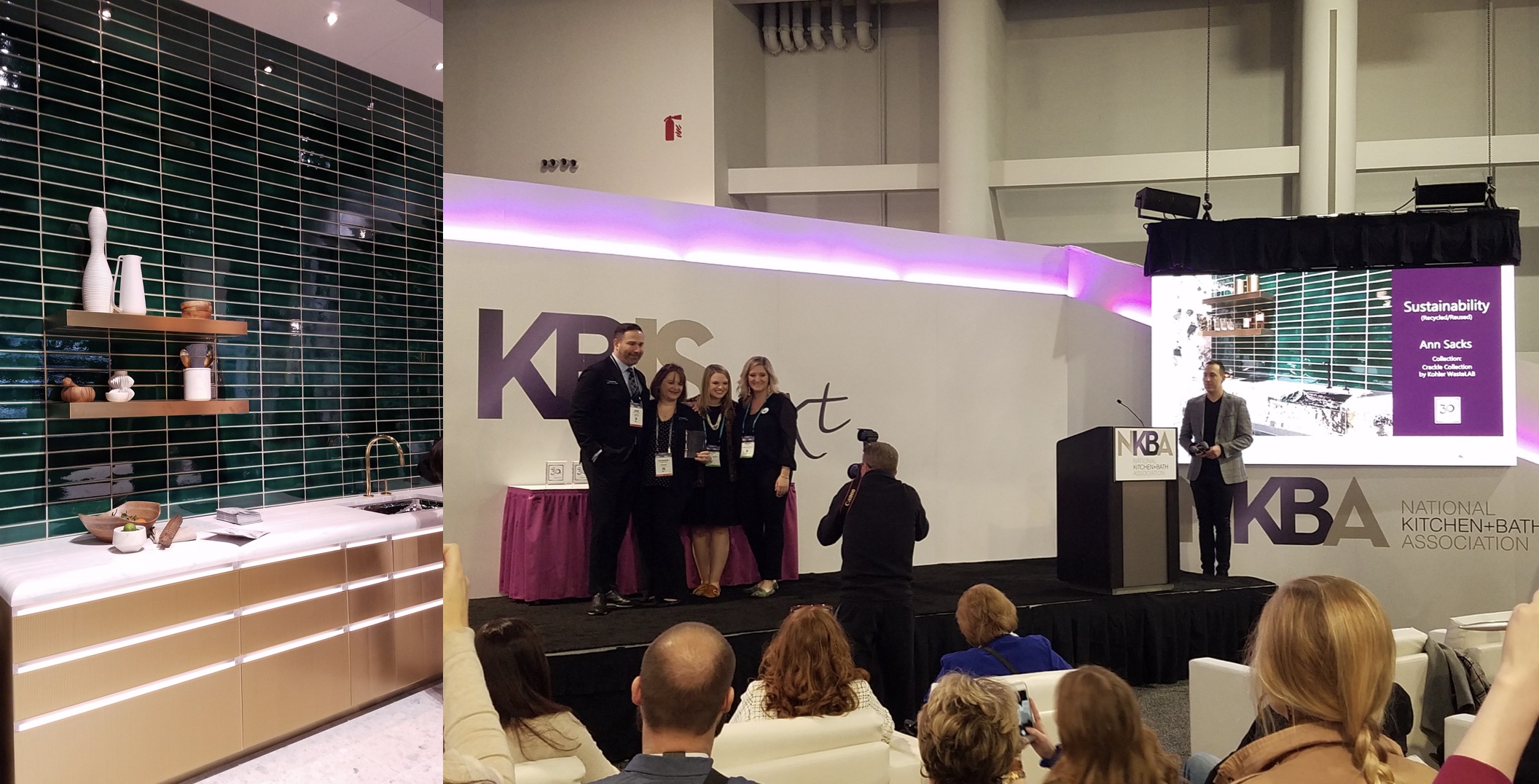 And booth design followed suit, with brands featuring clever, sustainable designs, built with materials that could be easily recycled or repurposed after the show, like the NKBA's IBS LIVE area, made of wooden pallets and shipping containers, and Stikwood, made of their reclaimed wood planks.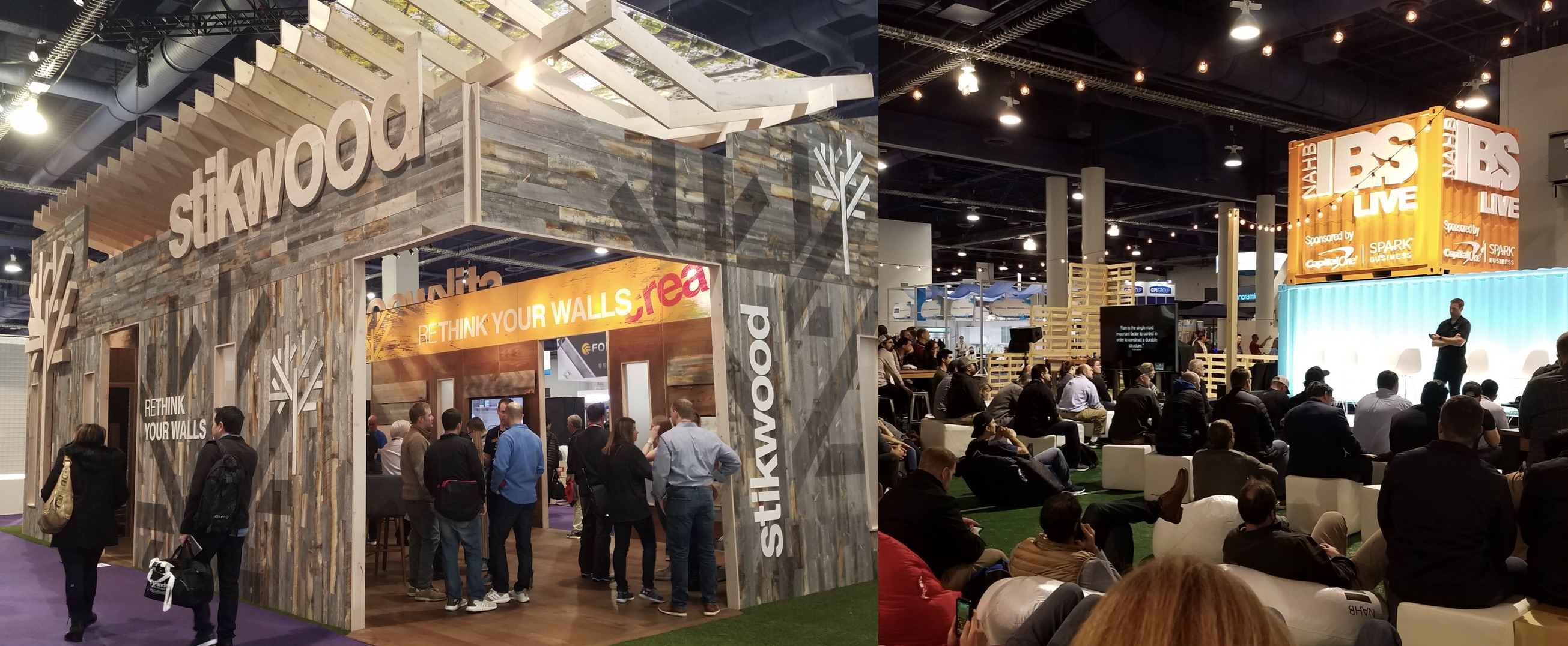 Custom Experiences
Brands found unique ways to entice attendees into their booth, engage them and keep them exploring. Monogram's custom cocktails featured hand-monogramed ice cubes for your drink as you sipped and explored their space, made of several vignettes concerted and designed by luxury designers, Richard T. Anuszkiewicz.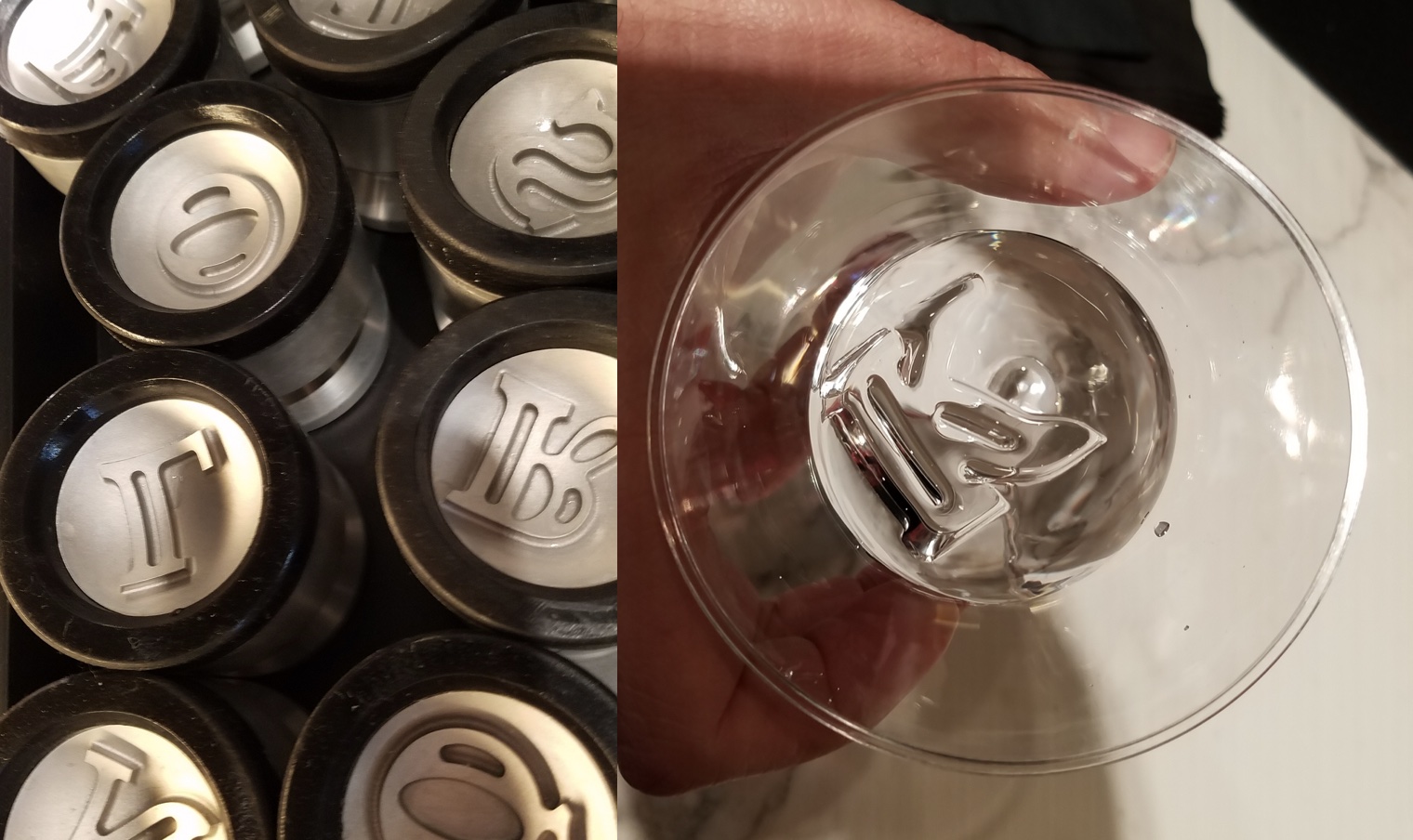 Client Belwith-Keeler featured its new Cullet hardware collection, tying the theme to a memorable and lasting keepsake: a sea glass chard necklace.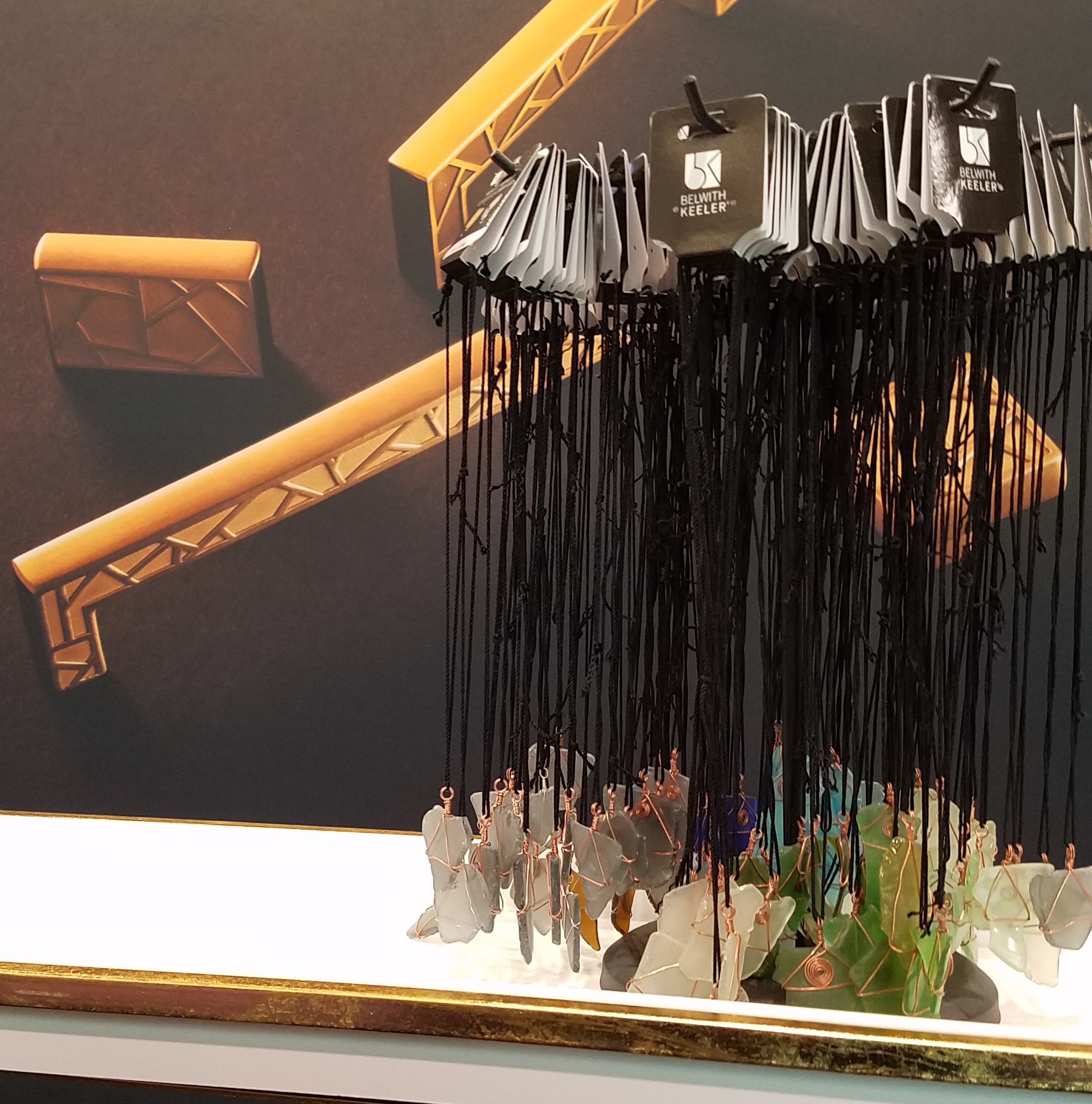 But the real luxuries came in the form of the ultimate customization: appliances. Yes, you could choose your color, height and door type preference, but two appliance manufacturers have taken it a step further with the introduction of completely customizable appliances concepts.
In GE Appliances' booth, consumers were encouraged to "Accessorize your kitchen like you do your outfits," by mixing and matching mixed metal finishes. The concept won an NKBA 30 Under 30 Award for the Best Sculptural Hardware at this year's show.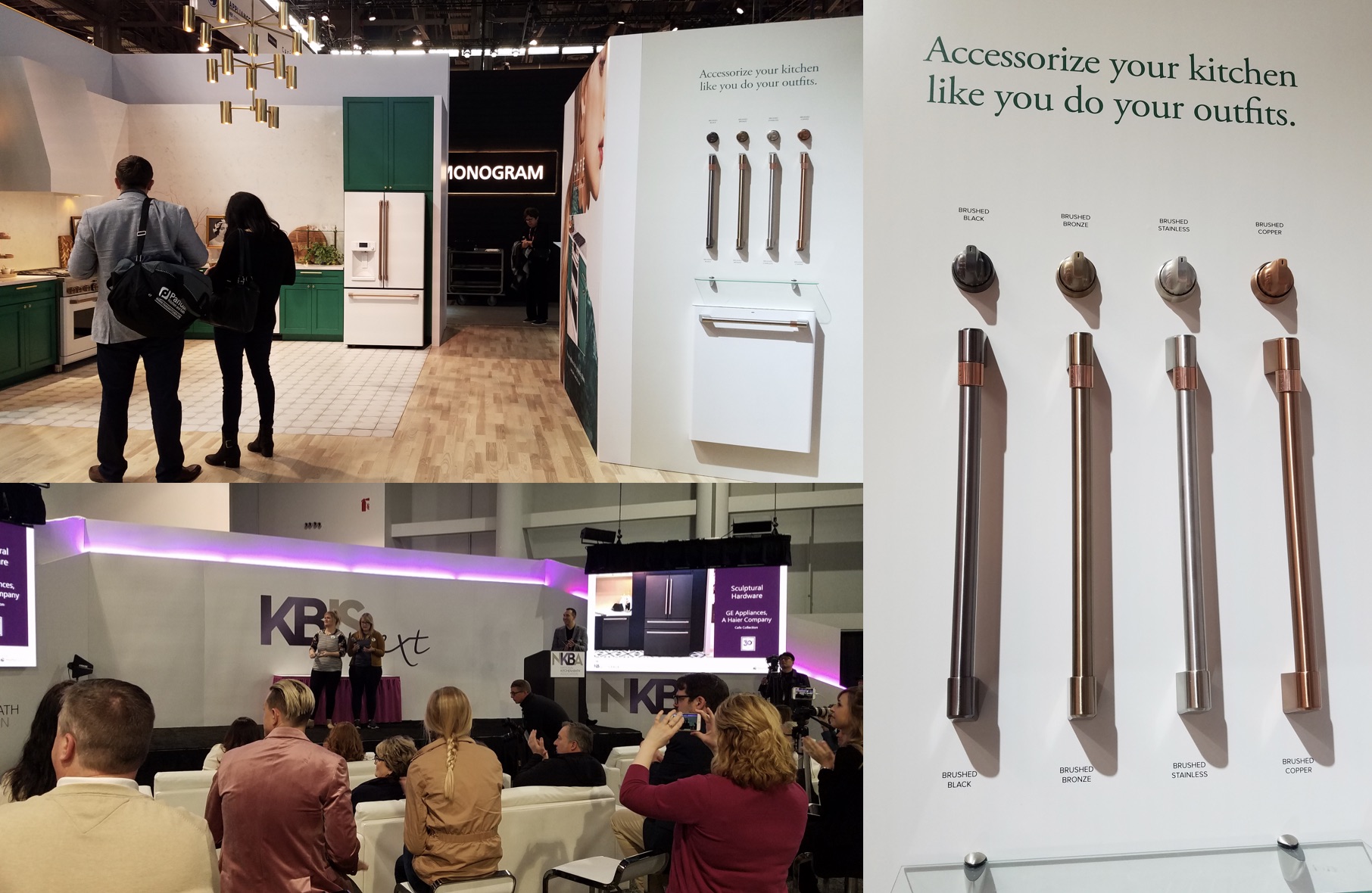 And True Manufacturing with the message of "Build your TRUE," (and in Emerald Green again!), offering bold, custom finish options for your refrigerator and its hardware.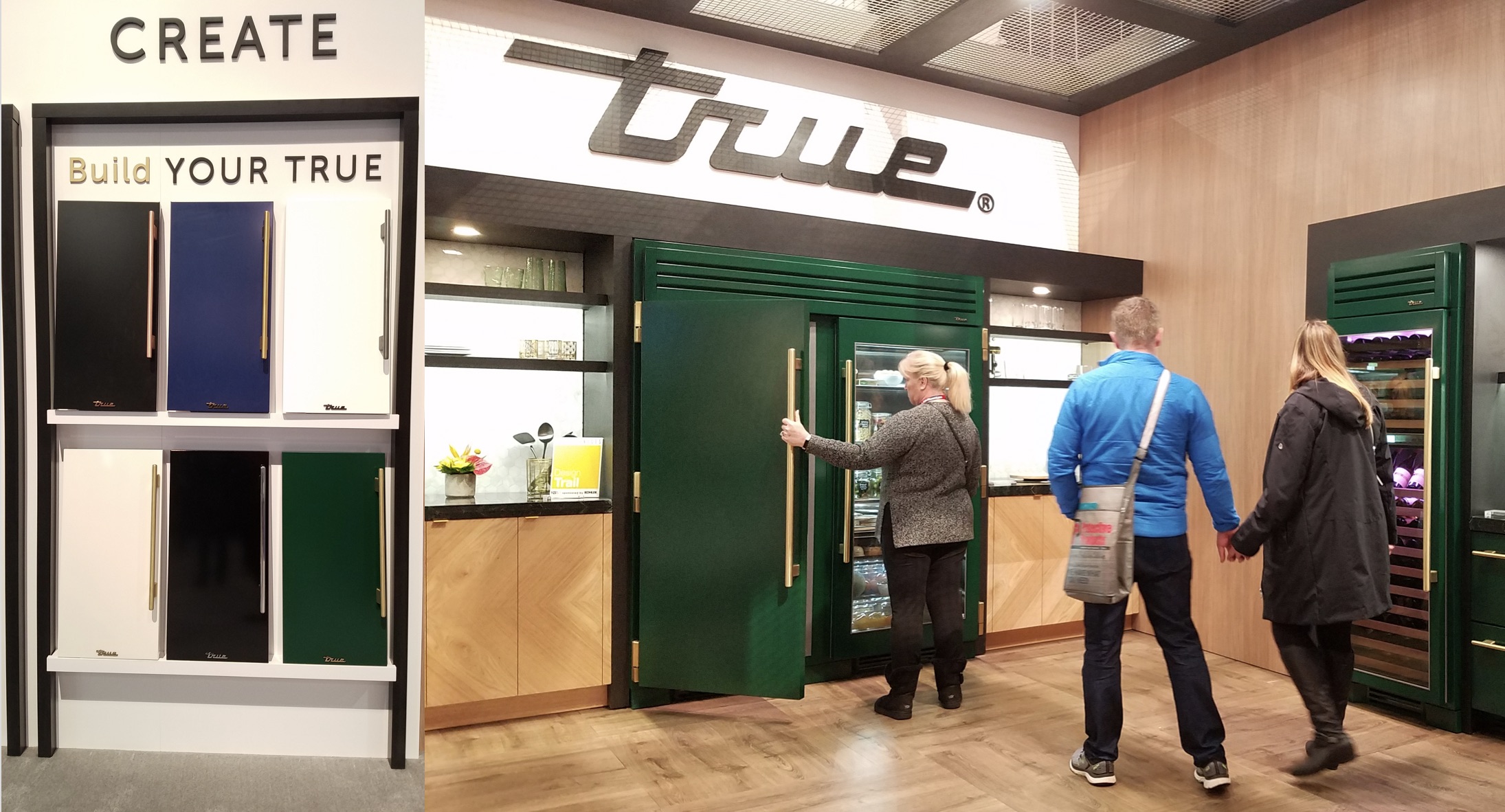 From customizing the color of your cabinets to the flavor of your water, Elkay provided booth visitors with a multi-faceted customized experience with their jellybean cocktails and new in-home flavored water machine.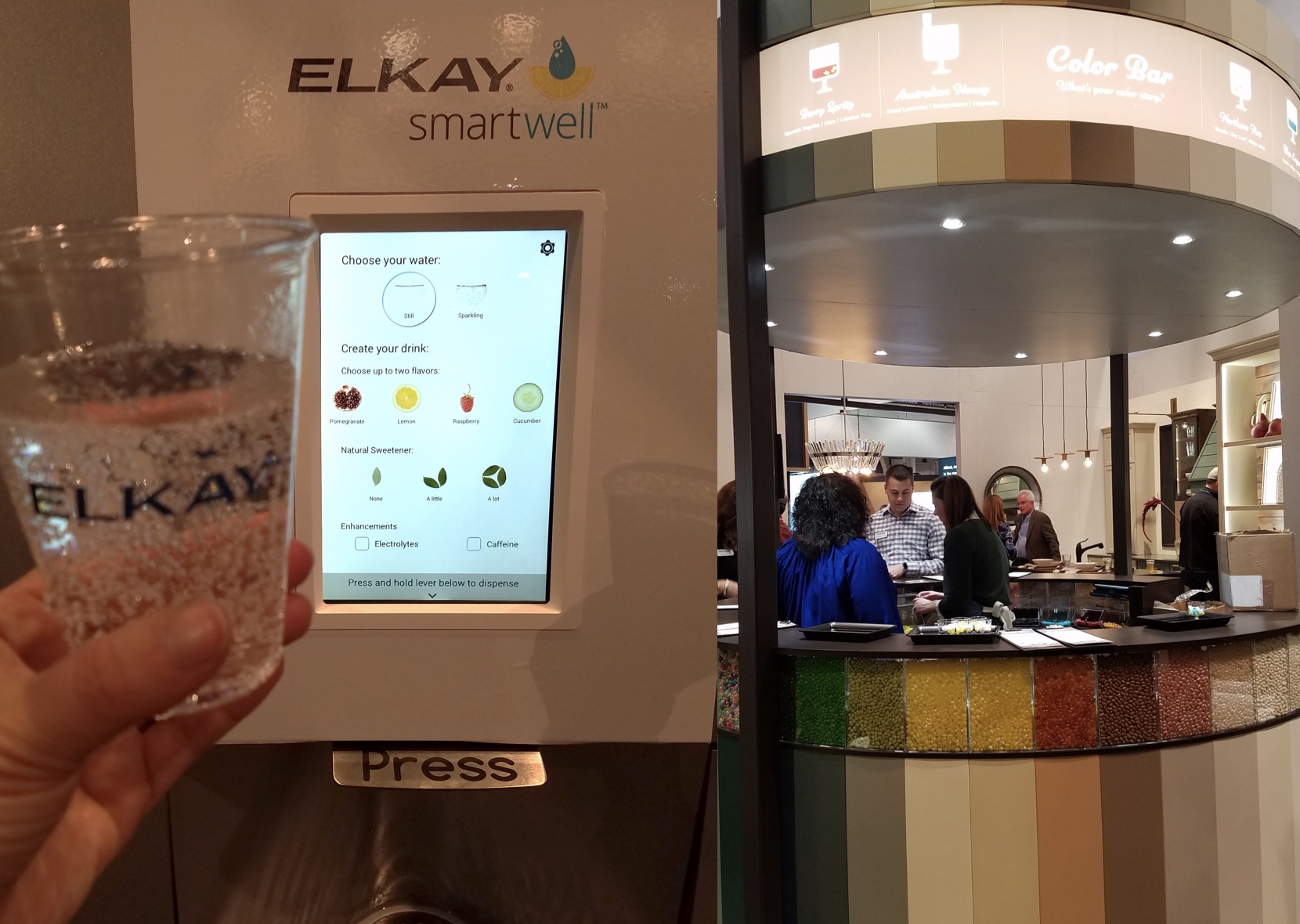 Make The Most of Your Next Trade Show
Want to know how to make the most of your next trade show appearance? Or are you still deciding on how to invest in the right show? We can help you make the most of your investment and create the right strategy. Click here to learn how we can help.