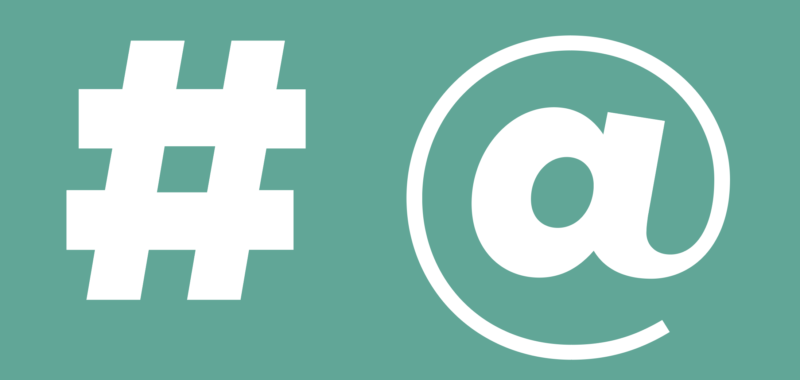 Even you're not social media savvy, you probably know what hashtags are, or at least have heard of them. Hashtagging—represented with a number sign (#) that proceeds a word or phrase—allows users to apply dynamic, user-generated tagging, which makes it possible for others to easily find and browse messages with a specific theme or content. A tag— represented by the "at" symbol (@) followed by a user's or business's profile name—allows social media users to connect with people and locations. That builds credibility as well as increases the likelihood for reciprocated sharing and/or engagement.
So, what's the difference, you ask? Let's dive in…
Hashtagging
By using hashtags, you gain greater exposure, enter into conversations that users are already having and capture topics that hold a shared interest. The golden rule is to use hashtags relevant to your brand, industry and target audiences. The key is not go overboard—using too many hashtags may be distracting for your audience and will dilute the messaging. It's also important to keep hashtags short, simple and easy to spell.
According to best practices, when using on Twitter and LinkedIn, use no more than one or two hashtags that are 11 characters or less. On Instagram, feel free to include several hashtags followed by five return dots (aka "full stops") on a post, as applicable to the content and target audience. Using return dots allows followers to see your message first without  diluting the message with hashtags whose primary value are for search purposes.
To find the right hashtags, you'll want to do your research first. This is important. Social media apps allow you to search for a related keyword or hashtag and see how many times it has been used. For example, below is a list of the top hashtags on Instagram for the topics related to architecture, design and construction. These include but are not limited to:

For each specific campaign you're launching, we recommend using a custom hashtag be developed and put to use in order to drive engagement and track the success/use accordingly.While it is recommended to use broad hashtags, you may want to consider narrowing it down to more specific hashtags. Consider what we call a hashtag tree. This is simply where brands can apply hashtags to a vertical, product and even product type for applicable posts.
Lastly, highlighting a branded hashtag in social profiles may encourage followers to share images of their own products using the hashtag for a chance to be featured on the company's official accounts. This is a great source of user-generated content that you can use on your account to help strengthen the community.
One note: Always check the hashtag before using. While some may seem applicable, once you click on it you may discover an entirely new use of the word—and one that you don't want your brand being associated with.
Tagging
Tagging allows us to engage users. It's important to search for the relevant party that may be applicable to the post and tag them accordingly. This may mean tagging an architect, contractor, distributor, media publication, company, etc. within the home and building product manufacturing world. In addition, on certain outlets such as Instagram, don't forget to tag the location as well. You never know who is visiting and may stumble across your post or brand.
For help pulling together or discussing your company's social strategy, contact an expert at Stoner Bunting Advertising or reach out to Kristen Jenkins: kjenkins@stonerbunting.com