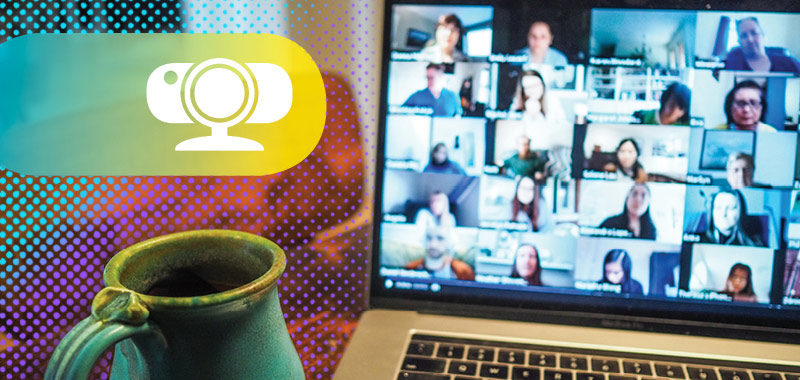 Video conferencing has changed the way we do business, both internally and with customers.
In the recent past, video conferencing was a way to save you the expense of travel miles and a ton of time. In the wake of the pandemic, conferencing has become an essential part of our daily work routine. Although we have all lowered our standards for video quality during this time, there are still video conferencing best practices you should adapt in order to maintain an air of professionalism and run productive meetings.
Here are the Do's and Don'ts of video conferencing:
DO: Mute Yourself
There's nothing worse than listening to someone talk and only hearing their echo and bunch of background noise. This is the immediate result of participants not muting themselves while they're not speaking. It makes it extremely difficult to get your point across. The simple fix: Simply click the microphone icon at the bottom of your conference window (all video conference services have it). Click the same icon again to unmute yourself. The rule of thumb here is to mute and unmute yourself quickly after you're done speaking. Don't hesitate to share these tips with your team before a video conference. It will save you time and a headache.
DO: Screen Share
Screen sharing works different for every video service. For Zoom, only hosts and co-hosts can share their screens during a meeting. However, hosts can enable screen sharing for a participant on a per-meeting basis, which is valuable for idea exchange . Click the security icon within your toolbar to easily enable and disable screen sharing for your participants. Whichever service you're using, learn how to screenshare before the meeting starts.
DON'T: Angle Up
To optimize your physical appearance on your video conference, make sure your computer's camera sits at eye level. If it's not on a desk stand, find a stack of books to prop your computer on. Position yourself straight and squared up in front of the camera so you're the main focus. This will help make the video conference feel more like a face-to-face conversation.
DO: Find a Good Background
We're all simultaneously juggling work with kids, pets and roommates, which means finding a spot in your house or apartment that's tidy enough for your colleagues to see can be a challenge some days. If you can't find a place that's today, opt for a clean wall behind you with minimal distractions. No clean walls? Move outside with the warmer summer  weather. (Just remember to mute your mic!)  If this isn't possible, add in a professional looking virtual backdrop. Depending on the video conference service you're using, some virtual backdrops are built in. You can also download a different backdrops from a variety of sources online through a Google search.
DO: Use Natural Sunlight
Although it may already be a challenge to find a tidy and quiet place for your video conference, also try to find a place with some natural sunlight. However, this is a balancing act. You don't want too much sunlight coming in and blowing out. the brightness. Not enough sunlight coming in makes it too dark. But be sure to position yourself so the natural is in front of you, not behind you, which creates a backlit silhouette and obscures your face. Try adjusting your curtains and seated position until you have optimum lighting.
DON'T: Adjust on Camera
Just like with any in-person meeting, don't fidget around on camera in virtual meetings. What do you do when you need to step outside for a call or bathroom break during a face-to-face meeting? You quietly excuse yourself. The same etiquette  applies to video conferencing. If you need to run to the bathroom, blow your nose or perform any other personal care activity, don't reposition or adjust yourself during a video call, just turn off your camera for a minute. This is a lot less distracting than watching you wiggle around in your chair.
While a lot of this seems like common sense, it's easy to forget once on camera. Try incorporating some of these tips into your next video conference. It will help make your meeting more efficient and collaborative.
Need help with marketing efforts? We can help. Fill out an inquiry or contact Dana Gulick: dgulick@stonerbunting.com.