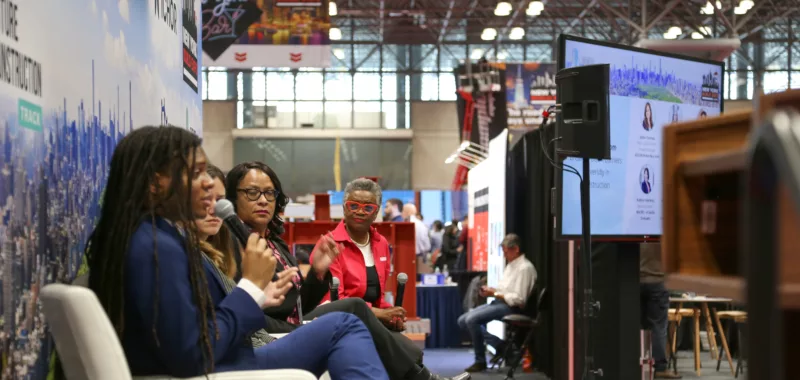 From exteriors to interiors this year's New York Build Expo was full of innovative products from  forward-thinking manufacturers. But we were also struck by many of the panel discussions—ideas that are helping to propel the building industry and its people forward.
Here's a recap of some of the most important topics.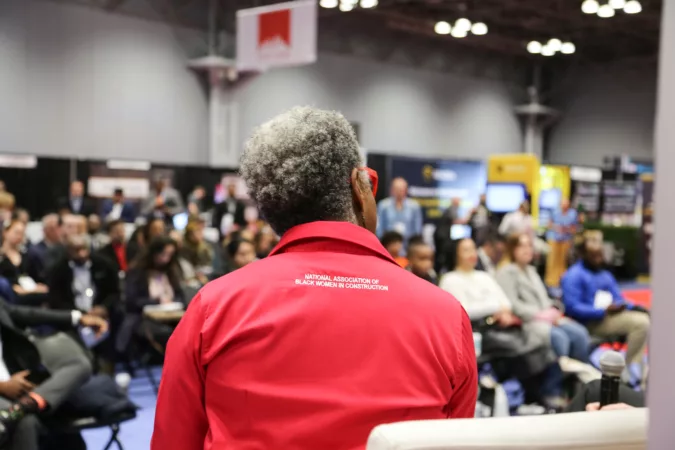 Diversity, Equity & Inclusion in the Building Industry
Perhaps more than any other topic, New York Build 2023 put the spotlight on the need for better representation in the industry. The presence of the National Association of Women in Construction, the National Association of Black Women in Construction (NABWIC), and Build Out Alliance in speaker panels and on the show floor made one message loud and clear: It is critical that the industry recognizes its unconscious biases and that under-represented groups are granted opportunity, are afforded access to startup capital, and are viewed with respect.
During the Breaking Down Diversity in Construction panel, Ann McNeil, founder of NABWIC, said something that has continued to stick with us, even after the show. "We each must have a dream to have a dream come true," she told the audience. "I am black, I am female, and I have been in the construction industry for 45 years. I have a lot of reasons to quit. I have a lot of reasons to fail. But I also have a larger vision of myself and in black women who can come into the industry and succeed. I no longer follow the money. I get in front of it and stand in the way." 
Accessibility
Directly related to the topics of inclusion and representation is accessibility. We heard many panel speakers mention they wish accessibility was thought of more proactively in the design and engineering, when building plans are developed, rather than reactively as an afterthought or as an obligatory gesture to code requirements. The general sentiment was that accessibility concerns are trending in the right direction and that it must continue to be a prevalent topic. Items like positioning  elevators in the front of buildings with good signage rather than forcing individuals to walk down lengthy hallways.  Lighting was also a hot topic — designing interiors for maximum daylighting to support well-being, as well as softer lighting to address light sensitivities.
Revitalizing Urban Areas
The governor of NY just announced $250 million to the Restore New York grant program. The goal is to encourage community development and neighborhood growth through the elimination and redevelopment of blighted structures. Projects that focus on demolishing, rehabilitating and restoring residential, commercial and mixed-use buildings. Some panels  addressed the need to use the opportunity to build with accessibility, inclusivity and community in mind. It's a program that other states and metro areas should take note of.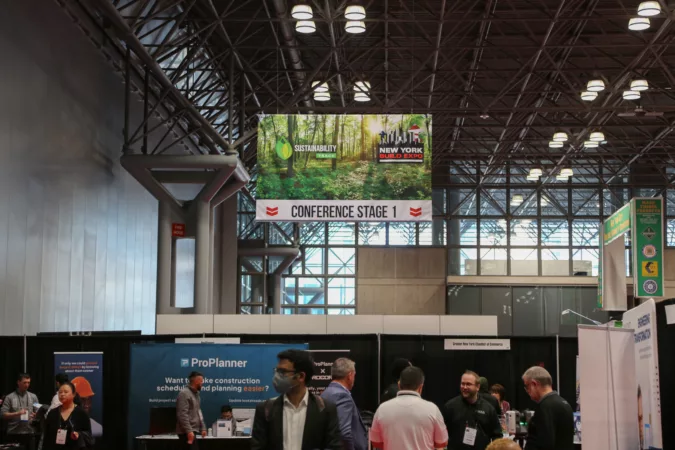 Sustainability
Sustainability continues be a dominant them in the architectural community. Several panels focused on the ways in which sustainability is changing design for the built environment. Major topics discussed were trends in raw materials (seeing more concrete, exposed beams, etc.) and use of prefabricated materials. A focus was put on architects being challenged to lower carbon which led to discussion about the importance of both retrofitting spaces and selecting materials based largely on their embodied carbon.
Communal living spaces  
Families and couples often tend to get the focus when it comes to residential design. But not all occupants have partners, spouses, or children. People like the idea of communal living spaces because they can provide organic opportunities for connection and companionship for those who live alone. Communal living spaces can help with everything from emotional well-being to cost-efficiencies, and in the wake of COVID, we all recognize the value of social connections.
Need marketing support for your building products? We can help. Fill out an inquiry or contact Dana Gulick: dgulick@stonerbunting.com.