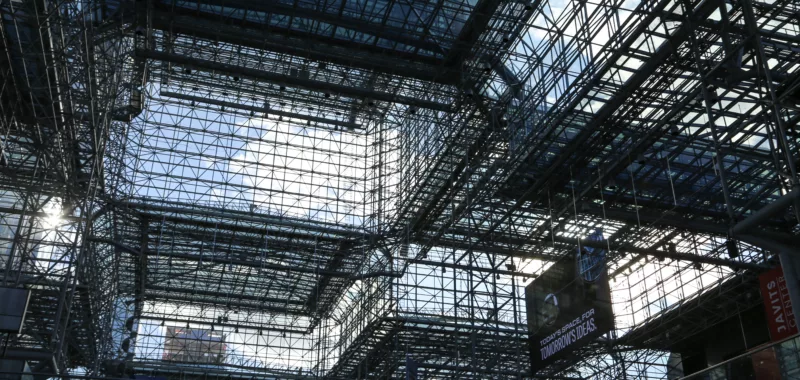 Like all trade shows, the 2023 New York Build Expo had its share of fun (we're looking at you, 10-foot-tall walking plant). But between the bar and the DJ and the dapper violinist ripping out pop jams on a clear violin, the Javits Center in New York City was filled with intelligent ideas and industry-leading products.
Here's a roundup of some of the exhibitors who caught our eye at this year's show.  

WholeTrees Structures
Using entire trees to construct functional architectural structures may not sound like a novel concept. And yet, no one's really doing it. Except for WholeTrees, that is. In a world of ever-evolving, technologically-enhanced building materials, this company is on a mission to get back to the roots of architectural design using traditional round timber. Prior to the expo, we scoped out the list of exhibitors and knew that this was one company we simply had to learn more about.
WholeTrees was founded in 2007 on an off-grid forest farm in Southwest Wisconsin where they used solar panels and a generator to bring CAD and BIM to structural round timber to fabricate and bring the first-of-their-kind structural systems to a national market.
Their mission is to improve the economic viability among forests and woodland communities, while creating a restorative model for the commercial construction industry. And while doing so, they're creating breathtaking, durable, and biophilic structures. Projects range from zoos, children's museums, corporate offices, wellness and community centers to structures on indigenous lands.
WholeTrees believes that "the built environment needs low-embodied carbon/carbon-sequestering materials, and our planet needs climate-smart forestry." and that's something we can stand behind.

CaraGreen
CaraGreen, a Raleigh, NC-based distributor, features a collection of brands and building product lines that offer eco-friendly alternatives to conventional building and design materials.  At this year's New York Build Expo, two particular product lines caught our eye for their functionality and aesthetics.
The Durat collection is a unique solid surface that creates colorful, durable counters, furniture, sinks, and tubs. Consisting of up to 28 percent recycled hard plastics diverted from the waste stream, Durat is also a completely recyclable material through the company's reclamation program. So you can feel as good specifying it as you do about the liveliness it brings to an
What we liked best about it? The unabashedly bold color palette and the cheerful texture this fun material has. There's no other way to describe it than like a party for your countertops.

Fotile 
From ranges to dishwashers, Fotile offers a collection of stylish and price-efficient kitchen appliances. Specifically at this year's show the company highlighted its line of compact appliances. Geared for multi-family applications and smaller residential environments, this line stood out to us for its intentionally understated good looks and sheer practicality. The company's in-sink dishwashers, for example, offer a clever solution to a common interior design problem: saving space while looking good.
Cathedral Stone Products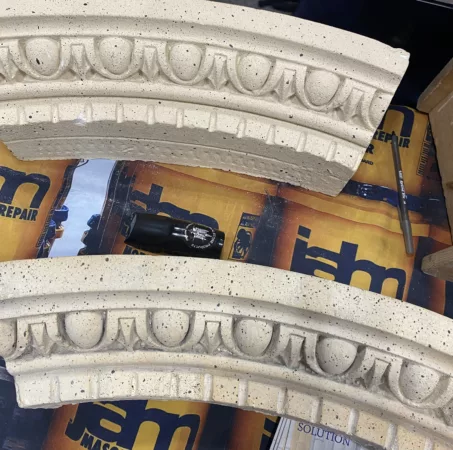 For more than 30 years, Cathedral Stone Products has offered masonry restoration solutions. The company relies on special mortar formulations engineered to match the physical properties of the substrate to which they're adhering. In terms of elasticity, porosity, tensile strength, and compressive strength. That means masons can use Cathedral Stone Products to repair and restore ornate stone building facades with mortars that are convincingly accurate to the original stone.
But beyond the products, what impressed us was the knowledgeable service the Cathedral Stone Products team offers. The team offers job-site training and education, plus ongoing support for any new users.
PVT Doors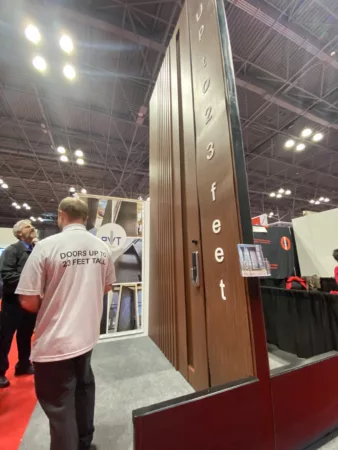 Doors are to homes like shoes are to outfits. Just like the right shoe, the right door can make or break the entire look.
But on rare occasions, the door is the look, the primary basis for the curb appeal. Enter PVT doors, a manufacturer who creates massive—and we mean massive, as in up to 23-feet-tall massive—metal statement pieces for residential applications.
PVT Doors redefine the idea of "grand entry." Based on a pivot system used in Brazil for more than two decades, these doors swap traditional hinges for an invisible and elegant axel that runs from the jamb through the body of the door for a completely seamless look. It's also one of the features that allows these lightweight behemoths to be so large.
The size of the doors is only part of the look, however. The sleek, eye-catching finish options are the other. Available in an array of solid semi-gloss, metallic, wood, and special texture finishes, this creative palette offer residential designers and high-end homeowners the freedom to turn heads with a door alone.
These products were just the beginning—there were plenty of other products and ideas to help architects, designers, builders, contractors, and installers do their jobs better. And we're looking forward to seeing many more in the years to come.
Need marketing support for your building products? We can help. Fill out an inquiry or contact Dana Gulick: dgulick@stonerbunting.com.