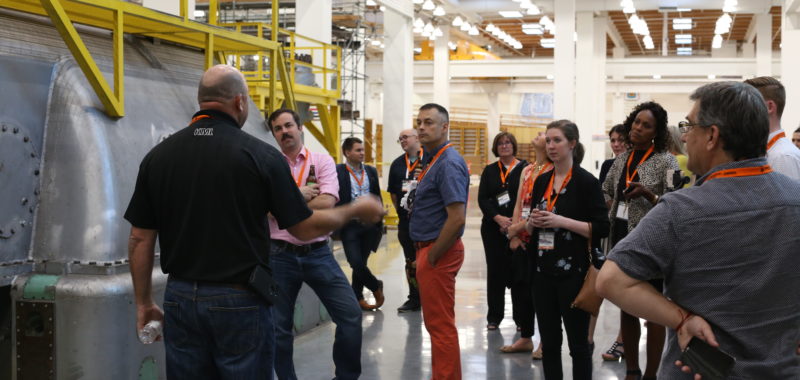 For our clients' product lines, architects are the key players in the specification process.
So reaching architects with messaging that resonates and branding that leaves a lasting impression is crucial to successful building product marketing campaigns.
We know architects are well versed in their areas of expertise. Meeting their expectations in a marketing-speak environment that promises to help "bring their vision to life" at every turn requires unexpected approaches and unique ideas. We also know we need to address matters of their everyday practical concerns and guide them to solving challenges not only efficiently, but effectively and creatively so that they ultimately build an unmatched loyalty to your brand.
So what's the best way to differentiate your brand and engage architects? Consider these 3 nontraditional ways to rise above the competition.
In-Person Architect  Networking Events
An effective way to engage architects and designers is to create in-person events that foster direct connections in unique environments that yield memorable experiences. No matter where they are in the sales process, you have the rare and organic ability to connect with them one-on-one and spark valuable relationships that simply can't be done with the detached impersonality of email or phone calls. Meeting in these types of settings, you have an opportunity to create loyal customers. Whether it be at trade shows, intimate dinners, small VIP social gatherings or presentations, you're able to create memories with staying power.
Architecture Continuing Education Credits (CEUs)
To remain relevant and knowledgeable in their field, and to maintain their professional licenses, architects are required to obtain a certain number of educational credits per year. Which means CEUs provide a direct opportunity to engage A&D community members and arm them with useful industry knowledge. When developing a CEU, you, as a marketer in the home and building products industry, have a significant advantage over your competition as you can educate your audience specifically on a particular subject that falls in line with your products and offerings within the industry. CEUs offer your audience exposure to your brand and products, and they can be leveraged through in-person sales events and "lunch and learns." You could even extend your reach by partnering with key media outlets to obtain new leads and/or can further push them down the sales funnel and specification process.
Building Product Development
A unique and nontraditional way to reach out to high-profile architects and designers alike is to include them in the process of product development. Giving them the opportunity to experience the product and innovative technology first-hand provides you with valuable insight into how architects and designers might use your products, and it helps define the primary marketing messaging that will resonate with them. It also gives them a personal connection for future specifications.
The opportunities you have with these kinds of connections are huge. They foster quality engagement that can lead to longstanding relationships with your target audience
.
If you're ready to further engage with the A&D community, contact Kristen Jenkins: kjenkins@stonerbunting.com or fill out an inquiry for marketing support.